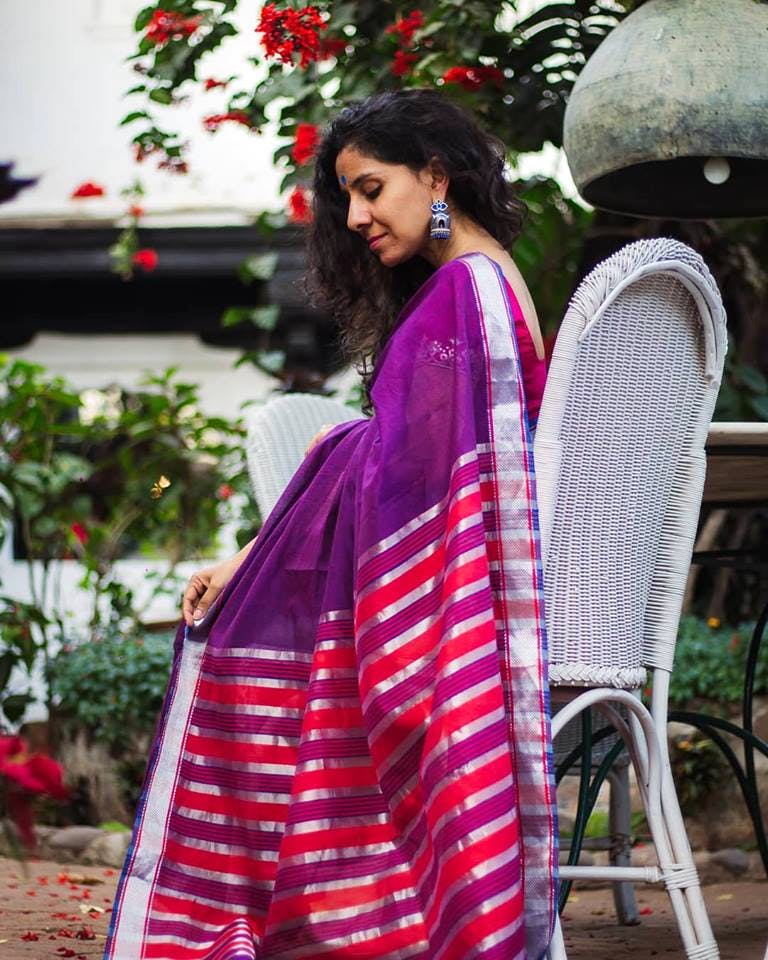 Looking For Maheshwari Saris? These Stores Have Some Beautiful Options
Originating from Maheshpur in Madhya Pradesh in the 18th century, these silk saris have come a long way from being exclusive gifts exchanged by royals to something everyone adorns these days.
Here are 10 online and offline stores that have a beautiful collection of Maheshwari saris.
Fabindia
Anything bought from Fabindia is worth every rupee of your investment. When searching for Maheshwari saris, your first stop should be Fabindia. They may not offer an insane variety at their offline stores, but check out their website for more options.
Price: Starting at INR 3500
Uma Maheshwari Saree Bhandar
It's a store located in Ghaziabad that has saris in various designs and colours. You can get saris within your budget for any occasion here, but because they have such a huge variety, you might have to spend more time here.
Price: Starting at INR 3000
Ajio
It is a popular brand under Reliance whose aim is to bring various styles and trends closer to you at affordable rates. They not only have saris and Indian wear but also do western wear, accessories and shoes for men, women and children.
Price: Starting at INR 1300
Nalli
If your style is simple and graceful, you should check out Nalli for their elegant yet subtle designs. Their collection comes in bright colours which makes it perfect for summer.
Price: Starting at INR 2000
Rehwa Society
This society was born in order to protect the needs of the handloom weavers of Maheshwar who were not in demand because of industrialisation. Rehwa Society brings to you handmade and hand-weaved saris straight from the heartland.
Price: Starting at INR 3400
Unnati Silks
It's a website that sells every type of sari that you can think of. They offer so much variety in terms of price range, colours, patterns, designs and type of saris that you'll find it difficult to make up your mind on what to buy and how many pieces.
Price: Starting at INR 1400
Mirraw
This website has Maheshwari saris with block prints. The saris are available in both cotton and silk, and you have the option of choosing between handwoven and the readymade variety.
Price: Starting at INR 940
Saree Envy
They have limited options when it comes to Maheshwari saris, but the options they do have are beautiful. When it comes to other saris however, including Banarasi, Chanderi, Kanchi silk etc, they have a decent collection that one must check out.
Price: Starting at INR 4300
Mrignaynee
A unit of Madhya Pradesh Hastshilp Evam Hathkargha Vikas Nigam Ltd, it aims to bring the state handicrafts closer to the people of the nation. They've got an impressive collection of Maheshwari saris and it will definitely fit in the price range you would have set for yourself.
Price: Starting at INR 1700
Comments