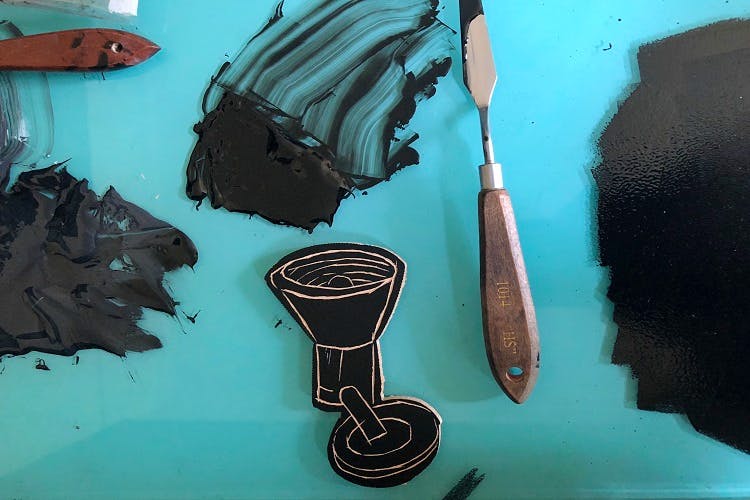 Make This June Artsy By Joining This Summer Print Making Workshop
3 Jun 2019 - 28 Jun 2019
3 Jun 5:30 AM - 28 Jun 8:30 AM
What's Happening
This Summer, learn the art of printmaking at ArtBuzz Studios. Spread over four weeks, you can choose between different forms of printmaking – etching, woodcut, drypoint and linocut – or opt for the entire month and master all four, under the guidance of the young and dynamic printmaker Shivangi Ladha. Printmaking is an artistic process based on the principle of transferring images from a plate made of various materials onto another surface, most often paper or fabric. This fascinating technique has been used historically by many artists such as Rembrandt, Pablo Picasso and Albrecht Durer.
In this unique creative setup, you will also meet fellow artists, open conversations and exchange ideas. Through the course of the workshop, you will learn the technique, brainstorm ideas with one-on-one discussions with Shivangi, prepare layouts and plates, finally creating your own print to take home.
How's The Venue
ArtBuzz Studios are non-residential co-working spaces for working artists. Facilities include, an open plan communal studio space (which can accommodate fifteen artists), ten private studios, traditional printmaking facilities and an open-air terrace. The studios aim to create a supportive, vibrant and eclectic artistic community where creativity can be nurtured.
Price Includes
Weekly charges for the session is INR 4,000. Monthly charges are INR 15,000, while the enrollment fee is INR 1,000. AND, you needn't worry about the materials at all because the good folks at ArtBuzz will provide it to you.
Pro-Tip
If you're planning to go for the workshop that we really think you shouldn't miss, then check out their schedule and enrollment details below: You can enroll on either weekly basis or for the entire month (excluding Saturdays and Sundays), from 11 am to 2 pm. In week 1 that will happen from June 3 to 7 they will talk about Etching (not for children below 18 years of age). In week 2, from June 10 to 14 you can learn about Woodcut. In week 3 happening from June 17 to 21 they will be covering Drypoint. AND, that's not all, in week 4, they will take you through Linocut from June 24 to 28 June. Best part? The rest of the skills can even be learnt by children above 12 years.
To book your spot, you can reach out to them by writing to them on info@artbuzz.in or you can call/WhatsApp them on 9899062929 or 9871355560.
Comments