The information in this post might be outdated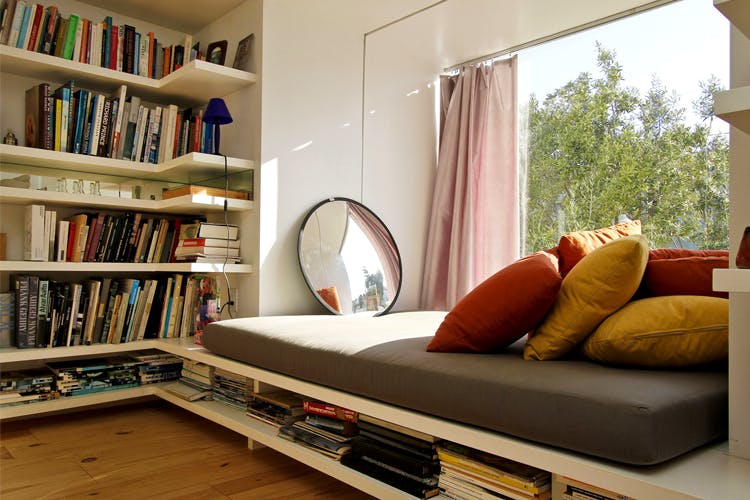 Too Many Books Lying Around The House? Here Are 9 Cool Ways To Store Them
Do you have more books than places to keep them? Or, is your problem one where you've piled all your books and magazine into that antique bookshelf and now they're all gathering dust, while every time you rummage through the shelves you emerge empty-handed, and with a fearsome allergy?
Don't worry, you're not alone. We're all constantly on the look-out for those perfect bookshelves that not only fit into our homes, but also look great. So, we asked a few UrbanClap partners about the best ways to store our books, and this is what we came up with…
1. Let Your Books Float On The Wall
Does the idea of your books, neatly stacked, and floating in mid-air sound too good to be true? Well, the books aren't really floating, unfortunately; they're stacked on a slim, metal shelf that's not visible. But, it's a great idea to save space, especially if you're into minimal design!
LBB recommends: Amazon and Wooden Street.
2. Use The Space Under The Stairs
A lot of people want to use the space underneath the staircase to build a cabinet or a closet. Well, if you're really struggling to find space for your books, go in for an open bookshelf instead! It really transforms the space into a cosy, inviting corner for your guests to admire.
3. Transform That Ladder Into A Bookshelf
If you have an old ladder lying around somewhere, you can refurbish it and place it horizontally on the walls to create a readymade shelf! And you just have to look at this picture above to know how classy it can look, if done right.
LBB recommends: Amazon.
4. Or The Bed
If you're someone who absolutely cannot go to bed until you've skimmed through a few pages of your book, then this is right up your street… or should we say, under your bed? Use these shelves to save space, and encourage your kids' bedtime reading habit.
5. How About A Circular Bookshelf?
They say books let you travel without moving your feet. Well, in the case of this bookcase, it's definitely true. Get a circular frame to store your favourite authors' works and travel around the world with it!
LBB recommends: Hit up these stores in Amar Colony to get one customised maybe?
6. Let These Shelves Set The Tune
Books and music make life better, so obviously there's nothing better than when you can combine the two to create something as innovative as this! Whether it's your old guitar case, or the piano that's lived its last, you can recycle both to create these funky looking storage places.
LBB recommends: These seven furniture markets.
7. Give Your Bookshelf A Personality
Every reader has a very definite taste when it comes to her/his books. So, why not showcase your preferences with an eclectic looking bookshelf like this one? Other shapes you can opt for include a brain, a hexagon, or even a shelf shaped like a map!
LBB recommends: Sikanderpur Furniture Market, Solid Bench and Vanilla Bespoke.
8. Make The Most Of Your Coffee Table
We know that coffee table books are meant to be displayed on the surface of the table itself. But what happens when you need the space for other things or, you have too many of those glossy hardbacks? Well, you can either go in for something like this uber-cool coffee table, or get one with multiple shelves underneath. After all, the couch is the most comfy place to do your reading!
LBB recommends: Pepperfry, UrbanLadder and Amar Colony Furniture Market.
9. And, Create Your Very Own Reading Nook!
The best thing to do, if you're an avid reader and, have tons of books strewn all around the house is to carve out a little corner for your very own reading nook. That way you can store all your books in one part of the house, and create your very own happy place for when you want some peaceful downtime to just relax, read, and escape the world.
LBB recommends: For cushions and upholstery – The Pink Elephant Studio, these decor stores, Auruhfy  and Varsha Co.
Well, we've given you the inspiration to get started. But, if you want to get it done right, we suggest you hire a professional to redesign your home. And, if you can think of any other ideas, let us know in the comments below.
This recommendation was first posted on UrbanClap.
Comments