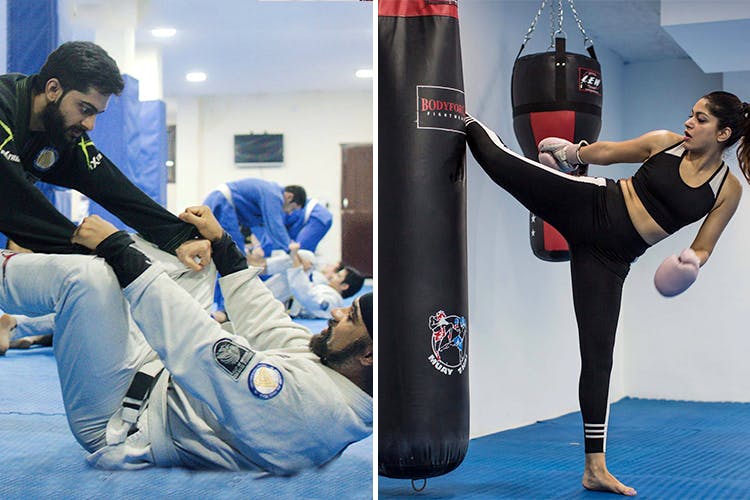 Stay Strong, Stay Safe: Try These 4 Martial Arts Schools In The City
Fan of the martial arts or want to learn self-defence? There are tons of places in the city you can go to to learn but we sought out the ones with flexible timings and excellent trainers. We asked around and listed a few of the best places in the city. Ready to sign up for some lessons, then?
Muay Thai Boxing Academy, Sadiq Nagar
The community centre's Muay Thai Boxing Academy teaches Muay Thai with a combination of traditional and modern training methods. Training under Harish Baghel, the silver medallist at the 2001 Asian Games means you're in for some gruelling sessions. A hard training regime that focuses on sparring and conditioning along with full body exercise, the evening classes are from 7pm to 10pm. This is particularly useful for the working folks.
Price: INR 2, 000 per month
Contact: 072176 36518
BJJ India, Malviya Nagar
A small space over a gym in Malviya Nagar, BJJ is home to Delhi's toughest grapplers, with recognition from foreign schools of BJJ. They have a focused grappling training regime which is a partner oriented experience, carefully explained and executed training programs and strict rules about tapping out to ensure the safety of its students. They have classes for Jeet Kune Do and Filipino weapon usage as well.
Price: It depends on how many times a week you want to take classes and the kind of classes you take.
Contact: 088261 66516
Realistic World Taekwondo School, Paschim Vihar
Run by Master Dhar in Paschim Vihar, his classes embody his principles of extreme hard work and conditioning. Training since the age of seven, he believes in relentless cardiovascular exercises, extreme conditioning and speed training. If you want to learn self-defence, he's the man to go to. With personal training available, you can ensure that you get individual attention and pick a convenient time.
Price: INR 3,000 per month
Contact: +919152463450
Warrior's Cove, Gurgaon
Gurgaon's most popular MMA academy teaches both grappling and striking in DLF phase 1, with morning and evening classes. A close-knit class with veteran instructors, their training regime is strenuous, partner-oriented and disciplined. They also make you do intense bodyweight exercises.
Price: INR 12,000 for three months
Contact: 099586 05606
Comments