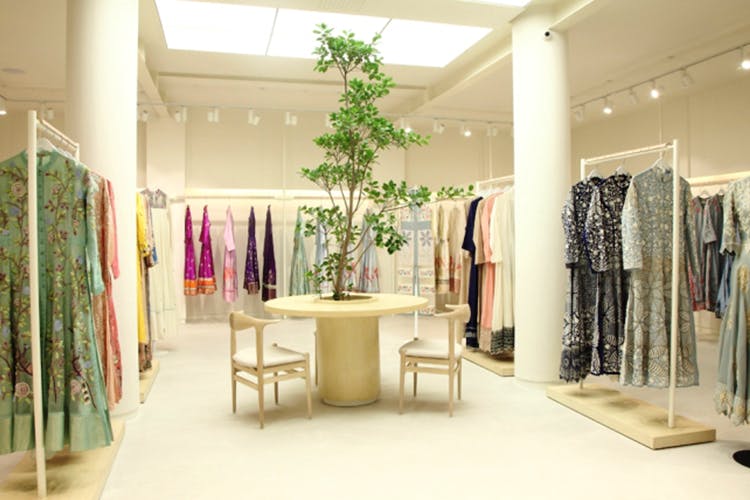 New In Mehrauli: Iconic Designers Like Rohit Bal & Rahul Misra Have Opened Shop
When it comes to fashion, there are some designers and brands that just don't seem to slow down. Mehrauli recently got a dose of the same when some of the biggest Indian names decided set up shop in this area. Drop by for some shopping and a meal at Olive, maybe?
Pallavi Mohan's 'Not So Serious' Store
Directors, Pallavi and Siddharth Mohan, launched their flagship store on the brand's 10th anniversary. The whole store has been themed around the brand's recent Alice in Wonderland collection. You can spot cloud mirror paneling, framed looking glasses and much more. As the store's name suggests, the whole place has a playful and whimsical vibe while also incorporating the luxury element. The collection itself exudes a whole young and quirky feminine vibe, and you can find clothes for any occasion, be it a wedding, a brunch, or a festival.
Kidswear is a new arena the brand has ventured into and that takes the centre-stage in the flagship store. You can find A-line dresses, sequinned gowns, and skirts for your little fashionista.
Ogaan's Multi-Designer Bridal Store
Ogaan has established itself as the go-to for the perfect blend of royal and fashionable and their new store near Qutub Minar portrays that perfectly. Flowy lehngas and embroidered jumpsuits stock the store's window with sheer finesse. With Ogaan's signature minimalist gold and ivory look, the store adds a fleet of high arches and embellished walls to the mix, making you want to stay there forever, going through their desirable collection.
Inspired from Mehrauli's own history, the store and their designer collection is a Mughal dream come true.
Rahul Misra's Flagship Store
Inspired by well-lit stores in Paris, Rahul Misra wanted his new store to be "a white cube" and a white cube he made. The idea behind this concept is to let the garments attract all the attention. With no over-the-top artsy walls, the store does exactly what's intended. You'll be able to browse through Rahul Misra's iconic hand-embroidered lehngas and sculptural dresses without distractions at this flagship store. What's your next buy gonna be?
Rohit Bal's Balance Store
With his signature design style, Rohit Bal has cracked open his new store, called Balance, in Mehrauli. Gorgeous Anarkali dresses for the ladies, Nehru Jackets for the men, and a splendid collection of accessories for both are the highlights of the store. You can expect to have a lavish time, roaming the store and spending your time and money in a place so full of exotic fashion.
Comments