The information in this post might be outdated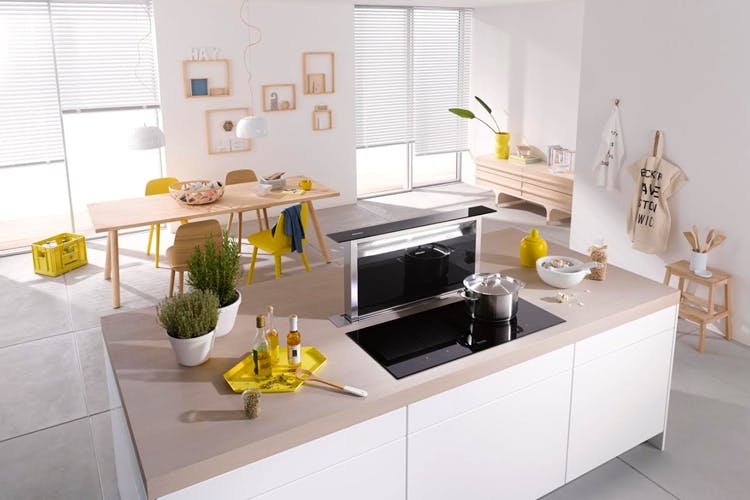 Upgrading Your Kitchen? You've Gotta Try These 5 Appliances That Masterchefs Swear By!
Who doesn't dream of a fancy-looking kitchen right out of an episode of Masterchef IRL, with all those cool and high-utility gadgets? If you too wish to have that kinda glam at your home someday, you've got to check out Miele's range of high-class kitchen appliances. Read on to find out how they're just not meant to add that extra bit of fanciness but will also make your cooking life snazzier!
Future Of Cooking Is Here!
Putting the fun back into cooking, prepare your favourite dishes easily and quickly with Miele's two-in-one induction hob. It's really a no-brainer why everyone wants to switch from the traditional gas stove to an Induction cooktop these days (say hello to max efficiency & safety). Miele's induction hobs with integrated extractor will become all the attraction with innovative features such as the cooker hood reacting automatically to the hob settings, unsurpassed speed and versatility of unique booster levels of up to 7.3 kW and lots more!
Smell No Fumes But Only Puns
Cooking up a storm of your favourite masala chicken curry but stuck in the strong smelling fuming den? We strongly suggest you install Miele's Downdraft Extractor that's powerful yet quiet and absorbs all odours. The stainless steel and glass panel built to ensure that it blends with the elegant look of the kitchen. The hood remains in motion and moves to the ideal working position. The intelligent cooker hood also switches itself off automatically after 10 operating hours. Perfect, right?
Steamin' Hot!
Don't cut down on your cooking enthusiasm, homies! This Steam Combination Oven will let you roast and bake to your heart's glory. Just put a bowl full of clean and chopped veggies, rice and pasta, and you'll have a fresh and tasty meal ready to be devoured so easily. Get ready to bake bread & cakes, grill all the fish, meats and everything else with the multi-steam tech. Pro-bakers, you can even make pizza & quiche bases and fresh fruit flans!
Mingle With Your Single Oven
Usual ovens just don't cut the game for you? Check out Miele's Steam Oven for making your side dishes, cooking breakfast perfect eggs, tender and juicy meats, making yogurt, soups, skinning tomatoes, nectarines, almonds, and tonnes more! The large cooking compartment and tray size plus the 3-leveled compartment make the cooking super quick.
For The Perfect Cuppa
Ah! Who doesn't love that high when the perfect cup of steaming hot coffee kicks in? Whether you like yours milky, frothy, intense, this Countertop Coffee Machine conserves flavour to pump coffee just the way you want! You'll have your friends dropping by every now and then just because the Espresso, Cappuccino, Latte, Macchiato or Ristrettos would be better than the next door cafe! So if you feel lazy to make yourself that coffee every day, this coffee machine is gonna sort out your life.
Dish It, Wash It
Sundays are meant to eat, sleep, Netflix, repeat and not lousily washing away the dishes. If you believe this too, check out Miele's Built-in Dishwashers for excellent cleaning and drying of all soiled utensils in just 58 minutes. So load all your cutlery, crockery, heat-sensitive glasses and everything else for spic span results without all that effort. No need to shy away from all those house parties now.
So, We're Saying…
Add that dash of jazz and spruce up your kitchens with Miele's range of elegant looking and technologically advanced home appliances. The dream of being the Masterchef of town ain't that far away, you guys!
Follow Miele India on Instagram to stay tuned to all updates.
Comments