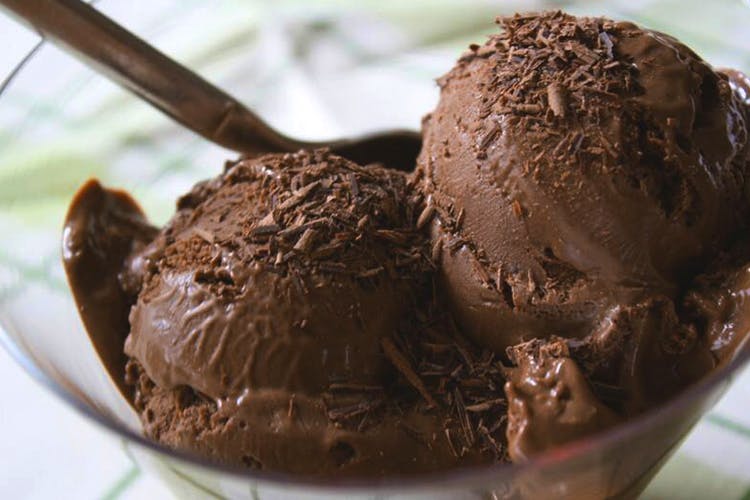 Minus 30 Delivers Yummy Gourmet Ice-Cream With Zero Preservatives
Shortcut
Minus 30 is a delivery-only ice cream parlour best for gourmet ice-cream that'll knock your sock offs, and reduce the cash in your wallet by a fair bit. But, it's worth it.
Who Will Enjoy This Place The Most
Ice-cream lovers, people with a sweet tooth, calorie-counters and those unwilling to go to a mall for Haagen-Daz or Movenpick. Minus 30 makes ice cream that's downright delicious, in innovative flavours and with ingredients that are preservative free.
Ambience
It's delivery only, but is also available at Coast Cafe and PVR Director's cut.
Must Try Menu Items
Their Almond Milk Dark Chocolate ice-cream is next level amazing. I usually don't like almond milk, but I tried this at a friend's house recently, and sprinkled roasted peanuts on top to go with it. It's light, not too sweet, and had me going back to the fridge for thirds.
They also do a coffee and tiramisu which I swear by. There's a bunch of other flavours to choose from – and they're pretty awesome about accommodating special requests wherever needed.
What Made Your Experience Awesome?
For me, it's home delivered happiness. I drop a text/email, with a flavour and address mentioned, and I get a tub of Minus 30 to my doorstep. It takes them about a day to get your order to you; but it's nice to be rest assured that the ice cream is fresh and preservative free.
#LBBTip
They're also accomodating to requests for sugar-free and lactose-free ice-cream. Order a day in advance to make sure it reaches you on time. At INR 1,000, it isn't the most affordable ice-cream. But that also ensures you don't give into Minus 30 cravings ever so often.
Comments