The information in this post might be outdated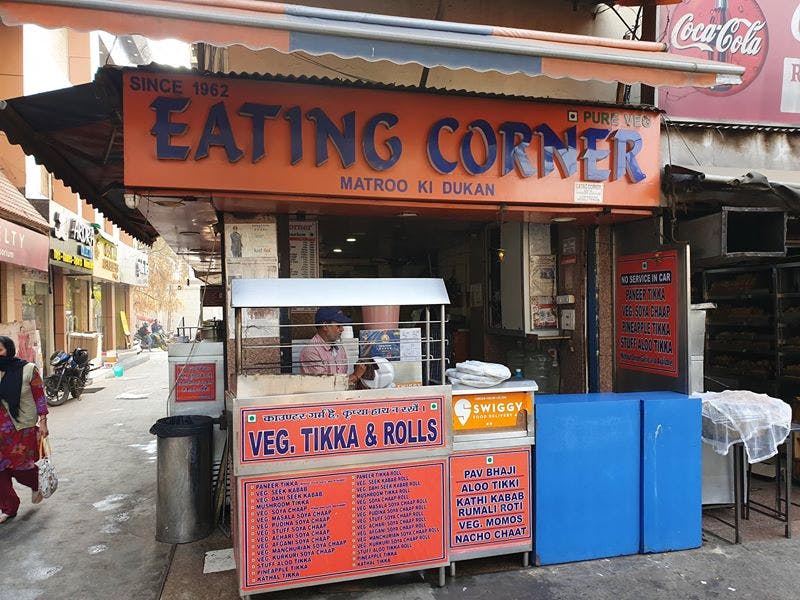 Epic Street Food Places To Hit Up In Model Town
Looking for good street food places in Model Town? Our list with epic momo, pav bhaji and chole bhature options (among many others) will have you sorted. Grabbing a snack on the go or out for a gedi with friends, these 10 places won't disappoint.

Chache Di Hatti
It's a street food list, so it's kinda obvious why it starts with Chhole Bhature. It's uncannily similar to the OG Chache Di Hatti in Kamla Nagar, but we've heard that they are separate enterprises. Nonetheless, this place does not fail to deliver on taste. They've got three different types of bhaturas for you to try, and are priced quite reasonably.
It's open on all days, but stuff usually runs out by 2:30-3:00 ish, especially on weekends, so planning a visit for breakfast is advisable.
Recommended For: Aloo/Paneer Bhature
Eating Corner
We can't decide what we love the most from their menu because of the simple fact that there isn't a single thing on the menu that we tried and didn't like. Their USP is the tandoori tikkas and rolls. Their achari soya tikka is heavenly (and vegan, so win-win), but if you're willing to get out of your car, (only this once, promise) then you have to try their gol-gappas.
Recommended For: Veg Kathi Kabab, Paneer Tikka Roll, Nacho Chat, Dahi Papri.
Arjun Pav Bhaji
Pretty sure there isn't even a single person who lives in (or around) Model Town that hasn't heard of or tried the pav bhaji at Arjun's Pav Bhaji. Their vada pav isn't much of a riot but if you love spicy, buttery pav bhaji, then give this one a try.
Recommended For: Pav Bhaji

Hot Pot
We don't care what anyone else may think, but there is no Chinese restaurant in the world that can match up to the Chinese and Tibetan food roadside vans offer. Hot Pot is that one place that won't disappoint, but since it's a roadside stall, we'll recommend skipping the non-vegetarian dishes just to be sure.
Recommended For: Honey Chilli Potato, Momo
Penta Cafe
Although, not exactly in Model Town, this place is just a five-minute drive away. Their claim to fame was the 100+ types of maggi that they make. So, those who love maggi will love this place. Moreover, they're open 24x7, so your late night hunger pangs, or post-drinking binge-ing needs will be satiated here.
Recommended For: Double Masala Maggi, Garlic bread
Roti Aur Boti
There have been times when we've gobbled down multiple plates of the chicken shawarma at Roti Aur Boti (and then regretted it later because of the calories, not the taste). It's super affordable with one plate priced at INR 60 (which has two shawarma rolls). We swear by this joint, and you have to check it out for yourself to see why.
Recommended For: Chicken shawarma
The Dragon Hucks
Chinjabi food lovers, this one is for you. The Dragon Hucks has been around since we were kids and is the perfect spot for a desi Chinese fix. Technically, it's a restaurant with proper seating, but if you call ahead and place your order, they'll be happy to prepare it for you to pick it up when it's ready.
Recommended For: Crispy Chilli Potato, Honey Chicken Dry
Nut Khut
Visited by patrons from all over the city, Nut Khut tends to stay quite busy and packed during the evenings. People love their aloo chaat and paneer/soya tikka. We can't vouch for their rolls since we haven't tried them, but their snacks are a good option for when you don't feel like eating a lot.
Recommended For: Aloo tikki, Paneer Tikka, Malai Soya Chaap
The Hostess
If you swear by the chinese food prepared by roadside vans, then you'll love The Hostess. Craving some hakka noodles or chilli potato? Don't think twice about it, and just hit up this van in Model Town 2.
Recommended For: Chilli Garlic Noodles, Singapuri Egg Chowmein, Honey Chilli Potato
Sahni Fish Corner
If you love all-fish-everything, and aren't too picky about the kind of fish you'd like to eat, Sahni Fish Corner has to be on your list of places to try. The amount of options in the dishes and the variety of fish that they have is unparalleled. We have friends who come over from South Delhi just so they can order food from Sahni's.
Recommended For: Amritsari Fish, Fish Fry, Fried Eggs
Comments