The information in this post might be outdated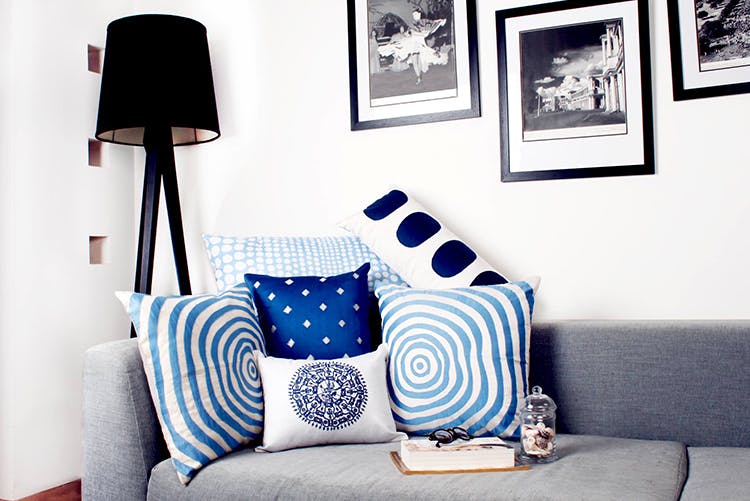 Monsoon and Beyond: An Austrian's Dedication to Indian Homes
Shortcut
Vera Fritsch brightens up your home and office spaces with little dashes of eclecticism, using her mix of home textiles and accessories from Monsoon and Beyond.
Around the Country in a Jiffy
Produced in an ethically fair environment, Monsoon and Beyond is Vera Fritsch's brainchild, who was born and brought up in picturesque Austria. A European design understanding in Indian inspirations is a fresh breath of air amidst the chaos and garish ethos of contemporary home decor labels.
We're completely hooked on their exquisitely handcrafted and uniquely designed products. The simplicity is where the beauty lies, but we do feel that the label's work is best experienced in a home.
Stories of Sunsets
Telling stories through her designs, Vera's work is embellished with stills from Indian culture. For instance, the indigo houses of Jodhpur, the faded wall of a medieval tomb in Old Delhi, and the sunset over Marine Drive in Mumbai all feature beautifully in the pieces. Wintery reds and greens decorate highly textured cottons to provide a feel of Kashmir's Chinar leaves and natural beauty.
You can spot a lot of aari work, chicken embroidery and even block prints.
Find Your Firsts
First-time customers can get a 15% discount on products and for the upcoming summer, they have the White Isle collection, which you should definitely check out. Playing with different shades of blue in combination with bright whites, we love the summery cool feel to it.
You can also check out their Dhurrie clutches in five different colours; they'll deliver it right to your home.
Where: Shop here. 
Price: INR 350 – INR 4,490
Timings: 9am – 6pm
Contact: Write to info@monsoonandbeyond.com, vera.fritsch@monsoonandbeyond.com
Comments