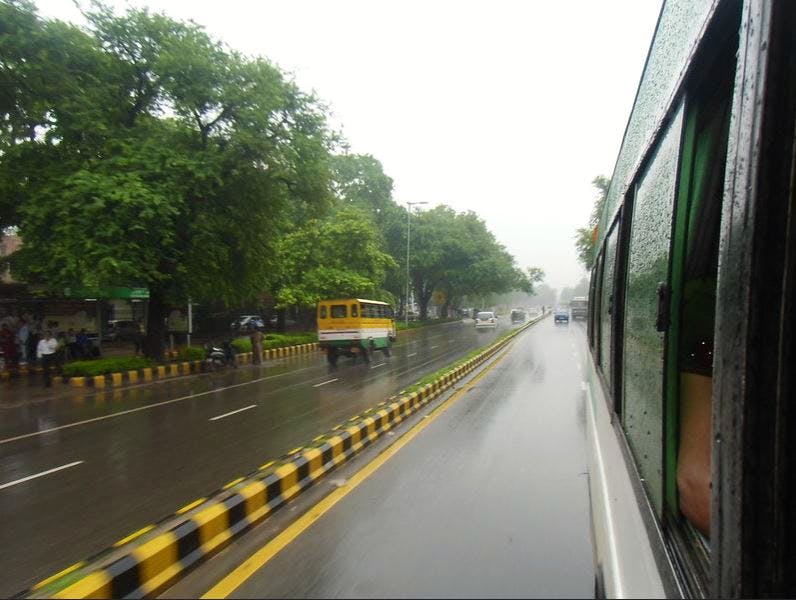 Make The Most Of A Rainy Day With Long Drives On These Roads In Delhi
We know that the very thought of driving during the Delhi monsoons makes most of us cringe, but then there is a certain joy attached to it, too (if done right). While the ring road stretch at AIIMS might not be ideal for any kind of drive at any time really, driving around a few roads around the city can help you love the monsoon a little more.

Ridge Road
A drive around the ridge road that stretches from Dhaula Kuan to Pusa Road is the perfect way to feel as if you're on your way to a hill station. With rocks and trees surrounding you on both sides, you can cruise your way with your windows rolled down and just enjoy the monsoon breeze. A good time for this drive is post 10.30pm, when there's barely any traffic on the way.

Shanti Path
Beautiful embassies, flowers, lush green gardens and wide roads; this stretch promises a damn good monsoon drive. Don't bother speeding here, since the stretch doesn't allow high speeds (it isn't that long either), though you can turn up the music a little and maybe do your own version of carpool karaoke.

T3 Airport Road
Anyone who has seen this road knows just how great it is. You can take your car here for a quick spin any time, and even slow down to watch planes take off from the airport. You might just find a few speedsters here looking for a healthy race (though you'd do well to remember you aren't really Dom Toretto).

Dwarka To Gurgaon - Dwarka Expressway
This stretch, unlike the one near Ambience Mall, is relatively more open and less crowded. Nights are great for a drive around this area, and the view of city lights behind the lush green cover make the drive even better.

Yamuna Expressway
This expressway is perfect for all those who love wide, uniform and clean roads, and wouldn't mind going an extra mile to escape the city. You can enjoy a relaxed drive on this stretch as the superb road quality will allow you to.
India Gate
While the roads circling India gate do not magically become free of traffic, it is always a pleasure to drive around this area. Even during the rains, you get to see a lively atmosphere with people, lights and a ton of greenery around.
Murthal
Don't waste your rainy day. Instead, go for a long drive till Murthal and enjoy their famous paranthas (with extra white butter!) at one of their dhabhas such as Haveli, Mannat, Amrik Sukhdev Dhabha, etc.
NH 8
It is one of the busiest highways connecting important cities such as Delhi, Gurgaon, Jaipur, Mumbai and Ahmedabad. But if you plan to take your car out for a drive, take the Delhi Jaipur highway. If you have the time, you can also turn this long drive into a short getaway to places such as Neemrana and Manesar.
Damdama Lake
Damdama is just 45 minutes from Gurgaon. You can take a halt at the lake instead of heading back right away and also enjoy a picnic by the lake or go boating in the lake against the backdrop of the Aravalis.
Surajkund
The road to Surajkund looks beautiful in the monsoon. With the pollution cleaned up, clearer skies and the Aravalis in the background, it is a picturesque long drive to the 10th century water reservoir on the outskirts of Delhi.
Comments