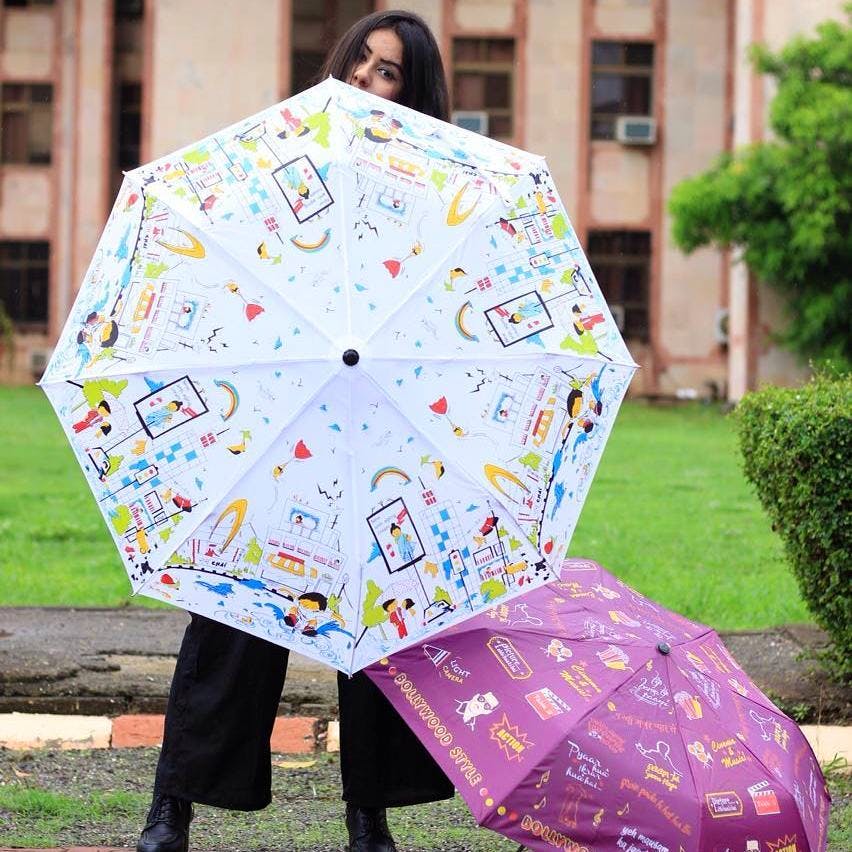 Save This For A Rainy Day: Get Monsoon-Ready With These Shoes & Umbrellas
While each year we patiently wait for the monsoon season, we also get annoyed when our foot gets stuck in the potholes and puddles. We also understand, that no matter how the weather is, we cannot limit our fashion choices. So, to help you slay (even in monsoons), we've picked out the best brands for cool umbrellas and trendy footwear.
India Circus
With inspiration taken from modern contemporary arts, these bright and kitschy umbrellas from India Circus truly reflect Krsna Mehta's design aesthetics. What's best about these wind and waterproof umbrellas is that they come in a variety of prints and sums up to be not just a monsoon essential but also a perfect fashion accessory.
Crocs
If you are looking for footwear that is sturdy and stylish at the same time, your search will end at Crocs. With multiple outlets across the city, you have plenty of options to choose from (there are some really cute ones as well). And hey, their products are colourful too so yes, a big thumbs up!
Colour Me Mad
Perfect for monsoon season, this brand has footwear that is water-resistant, shock-resistant, high-gripped, durable, you could even wash these at home quite frequently and the best part is, you can even change the insole. And of course, as the name suggests, they are quite colourful too.
Also, currently they have an awesome monsoon sale going on their website so, check it out right away.

Havaianas
This brand offers the comfort of a bathroom slipper, but is chic enough to not bring your outfit down. Take your pick from a wide range of neon and metallic- coloured Havaianas. They also have some really cool designs including polka dots, florals, and animal print flip flops. So, this monsoon, step out in style with Havaianas.
Max Fashion
If you miss wearing your Oxfords in the pouring rain, we suggest you drive down to Max right away. They are stocked up with slip-ons, oxford shoes, and flip flops that would perfectly cater to your monsoon checklist.
Cheeky Chunk
This brand started as the founder wanted to combine his love for rains and doodling. He didn't want people to carry regular, solid-coloured, or floral umbrellas in the rain anymore and hence, he created ones with colourful doodles of rain, chai, paper boats, and everything else that'll help you think of rains. The doodles not only make the umbrellas look super cute but these are also made with a sturdy metal base to help protect them from winds.
So, when are you getting your Cheeky Chunk umbrella?
Keh K Lo
This monsoon make sure to stroll whilst you create a statement with Keh K Lo's customised umbrellas. We absolutely love their entire collection, however, the more popular favourites are their GOT-themed options. Also, they even do 'save the date' umbrellas so, you can ping them for any customisations.
John's
Although, the brand is based out of Kerala, you have an option of purchasing your favourite ones online via their website. Choose between straight-fold, two-fold, three-fold, and even five-fold tiny umbrellas that'll easily fit inside your bag. You might find a lot of options in solid colours and very few printed ones, but, considering the quality John's has to offer, we guess it's all good to invest here.
Fuss Pot
With a range of monsoon footwear and umbrellas available, this place should definitely be on your radar. What we really love from is Fuss Pot's helmet umbrellas and rain sneakers that don't let you compromise on fashion even when it's raining.
Sun Umbrellas
Present in the market since 1880, Sun Umbrellas can easily be counted as one of the most trusted brands in the market. With their products made of the finest quality, they also offer a number of options to choose from. From checks to florals, and even polka dots, you'll find a variety of prints here.
Bata
We've been shopping from this brand for a VERY long time now, don't you agree? So, if you are looking for affordable, trendy, and cute chappals, then go back to Bata again!
Decathlon
With great deals available on gumboots for both men and women, you should definitely head here if you are specifically looking for these. Their tried-and-tested quality is something that you should look forward to. While you might not find a lot of colours, Decathalon's basic options will work just as well with all your outfits.
Comments