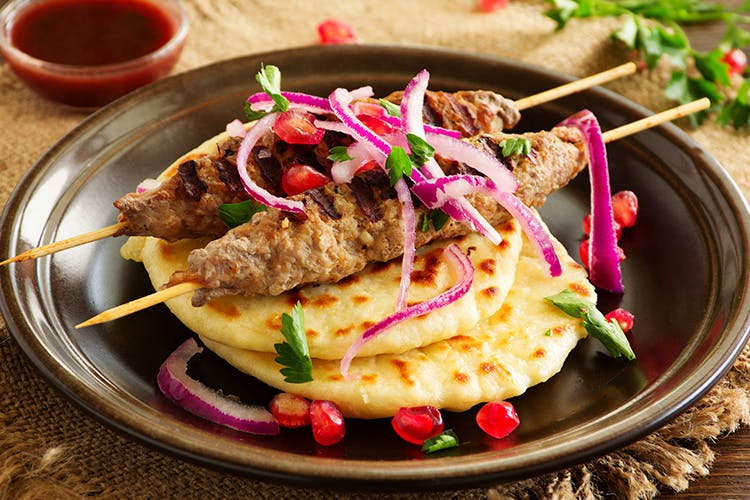 Nearest Metro Station:

HUDA CITY CENTRE
Tikkas, Chinjabi Food & Chit Chat: This Place On Golf Course Road Is Perf For Catching Up With The Squad
Shortcut
Quiet and unassuming, this place is all about hardcore eating. Don't expect it to look all fine and spiffy even though the food is. Mitraao is when you've been drinking at home, the group is big and the appetites are even bigger.
Tandoori Tales
Kebabs and tikkas are the essence of comfort food when it comes to wholesome eating and here they have over two dozen varieties to choose from. Do something different and try the unusual kebabs and tikkas. We loved the tangdi kebab Afghani kebab and malai soya chaap tikka. Once you've had your fill of grilled goodies, dig into their curries. Portions are good and the options are plenty. We suggest you skip the butter chicken and kadhai chicken and go straight for seasonal stuff like saag chicken, handi chicken with keema and egg and mutton rara. For quick bites they have kebab and seekh rolls and meal combos. The egg curry chawal will remind you of your mom's kitchen!
Chinjabi Central
Sometimes the only thing that will hit the spot is chilli chicken and hakka noodles! Even though Mitraao has an Italian menu, it's the Indian and Chinese that will have you coming back for more. Go old school and try the manchow soup followed by honey chilli chicken, chilli gobhi and fried rice. Even the Chinese dishes come as meal options. Both veg and non-veg come with soup, spring rolls, a main course gravy and a choice of rice or noodles!
So, We're Saying...
If you're looking for budget, multi-cuisine binge then Mitraao is the place for you, tucked away on Golf Course Road, it's also a place you can park in peace and sit all evening!
Comments
Nearest Metro Station:

HUDA CITY CENTRE