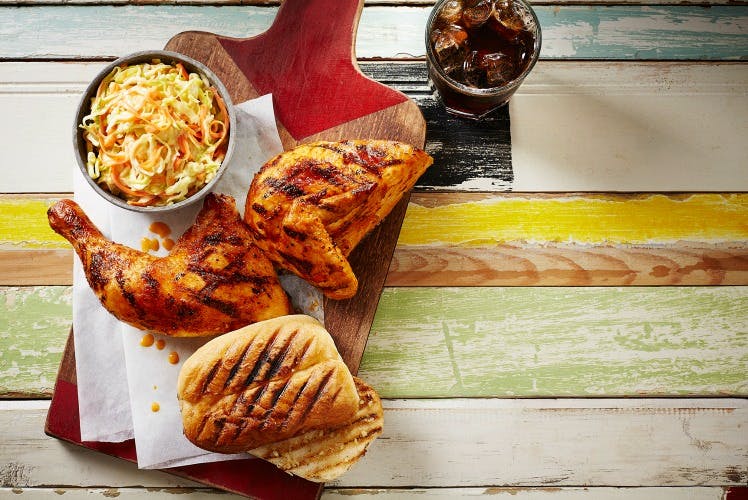 Delivery Available

Wi-Fi Available

Nearest Metro Station:

NEHRU PLACE
Smoking Hot Grilled Chicken Comes To Nehru Place
What Is It?
The makers of our favourite grilled treat, Nando's has arrived with a bang at foodie haven Epicuria in Nehru Place and we cannot wait to grab some spicy and saucy succulent beauties.
Who Is It For?
Full on flavour, and marinated in delicious Peri-Peri for 24 hours, this is manna for all chicken lovers who want to have their bird, and eat it too.
What's New?
Think fresh flame grilled chicken, basted in your choice of hot sauce, served with herby dips, crisp salads, fiery wedges and a yummy three bean salad. Paired with bottomless icy cola. Enough said!
A quick shout out for the new chick in town- a slightly sweet, slightly tangy number called the Mango Lime marinate which is perfect for those who want to go low on spice, but not on flavour.
Oh, and, this Nando's is bright, vibrant and designed around a new style of service: 'minha-casa-e-sua-casa' which basically means my home is your home. So, you place your order and then walk around, pour your own drink and pick your dips and condiments, feel at home and are also served on your table! Let the binging begin!
Anything Else?
The veggie section is just as expansive as the meaty one, and we hear as smoking hot!
Also, there is going to eventually be some of the good stuff to drink here as well- once the licence comes in, you could choose from an ice-cold beer, your choice of white or red wine, or a deliciously fruity sangria to douse the fire with.
Comments
Delivery Available

Wi-Fi Available

Nearest Metro Station:

NEHRU PLACE