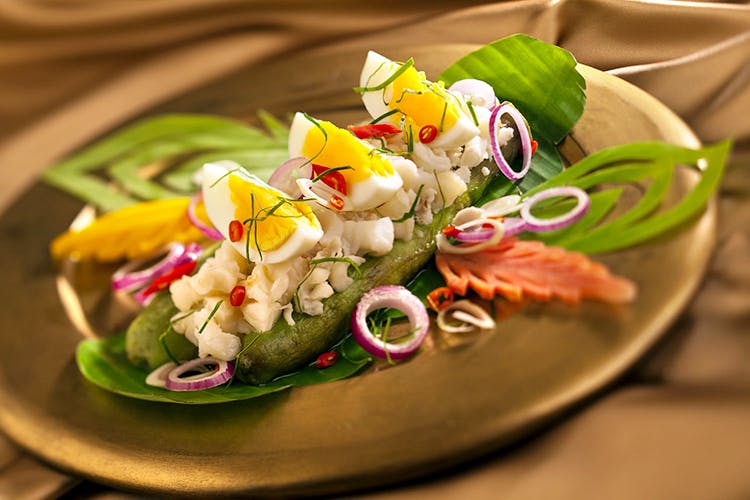 Nearest Metro Station:

DELHI AERO CITY
Try Their Thai: Regional Specialities At Neung Roi
Shortcut
Neung Roi brings forth Chef's Yenjai's prowess with a menu that's broken into the different regions of Thailand, so that you don't miss a dish from the cool north or the spicy south!
All That Glitters
Neung Roi is as golden as it gets—from the fine glass chandeliers to the mustard gold table covers—and is adorned with a pond of orchids to add a dash of colour to the whole setting. Since gold is the hue of opulence, this is a good place to celebrate an occasion. Also, food comes really fast!
Let's Eat, Shell We?
This massive menu draws inspiration from the four major culinary regions of Thailand; Isan, Lanna, South and the Central Plains, which is why multiple visits are warranted. Seafood shines through here irrespective of the region though we suggest you mix and match. The Panko Crusted Squid Rings from the South and the Golden Fried Prawns from central Thailand are absolute winners when it comes to starters.
For mains, the choices get more varied and we suggest you make the meal 'seafood only'. Try the Steamed Fish with Lime Chili from the Isan region, Blue Crab Stir Fried with Curry Powder from the south and the Deep Fried Prawns in Red Curry Sauce from central Thailand, which is a great takes on the usual Thai Red Curry!
Say Oink
If seafood is not your thing, flip the page of their menu to some of their pork dishes. Very few places do pork belly like Neung Roi; it's featured in everything from starters to mains, and we're not complaining. From Deep Fried Pork Belly to Pork Belly with Peanuts and Dried Chillies; the way that Neung Roi has reinvented such a simple dish is wonderful!
If that's not enough, you could try the Pork Mince Salad, Isan Style Pork Curry with Raw Papaya, and the incredibly-indulgent Southern Style Pork Curry that's been flavoured with white ginger and young peppercorn. Pair these with jasmine rice and, believe us when we say this, you'll be one happy camper!
Or You Could Just Veg Out!
Don't be misled by the meatier menu items; Thai cuisine is extremely balanced and there are lots of equally delicious options for vegetarians. The Raw Papaya Salad is killer but it's the mains that bring out the best of this kitchen. We recommend the Wok Dried Tofu from Isan, Jackfruit with Dill from Lanna and the incredible Morning Glory with Soya Bean Paste from central Thailand!
Add a side of Pad Thai and you're sorted!
Comments
Nearest Metro Station:

DELHI AERO CITY