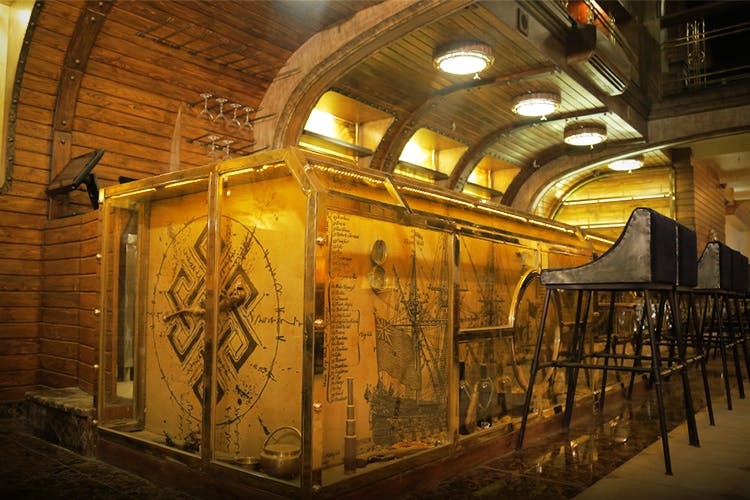 Go Time Travel: CP's New Bar Has 3 Dining Areas & Each Is Inspired By A Historical Period
Shortcut
Get ready for Era, a bar that celebrates three different periods in history – Renaissance, Pre-Industrialisation and Victorian. Each of these sections bear an imprint of their time and offer you a chance to witness a different vibe. You can choose big, leather couches with books or dance the night away at the grungy, Industrial Revolution-inspired zone. Or, sip heady cocktails at Renaissance.
Of Maps & Martinis
Themed bars aren't a novelty but a bar with three themes still is. The moment you enter Era, you're taken on a visual journey through the ages. Drink, dance or day-dream… the bar makes sure they've got a space that ties in with every mood.
We love that we can sit back and have real conversation on the first floor that's relatively quiet and has sink-in leather sofas. The dim lamps and the wall library here are a reminder of a tastefully done colonial home and it's easy to sit around for long meals. If you have a relaxed, sit-down catch-up scene planned, this is your best bet.
Go down the stairs and it's all steel and DJ on one side and a sepia-toned bar and walls with yellowed compass and map motifs on the other. We're told that the swanky DJ stage rotates and elevates to symbolise the true spirit of the industrial revolution. We'd expect a lot of CP office goers at renaissance, sipping mean cocktails while the pre-industrial dance floor is bound to be a partying squad's sweet spot. If you are a penny-wise student, don't leave yet. They promise that the menu will have affordable "specials" that will fit right in your budget.
All personality types covered yet? We'd say yes.
Point The Compass To The Bar
When we visited, Era's menu was still in the tasting stage but unlike the theme, don't expect the food to be too revolutionary. A mix of Oriental and North Indian, it'll have a whole bunch of fusion dishes that recreate our favourite comfort food.
We sampled baby naan with paneer, mushroom galouti, spring rolls and butter prawns… All of which were flavourful without being overbearing on the palate. They're obviously fine tuning the occasional rough edges and extra oil so the final menu is still under the wraps. 
All said, we gotta say that the cocktails stole the show. If you leave without these, it's your loss entirely.
So, We're Saying...
They're going to be a great find for private parties with that extra bit of attention and safety almost guaranteed. Check them out maybe?
More Information
Era - Bar & Lounge
Wi-Fi Available

Nearest Metro Station: RAJIV CHOWK
Comments