The information in this post might be outdated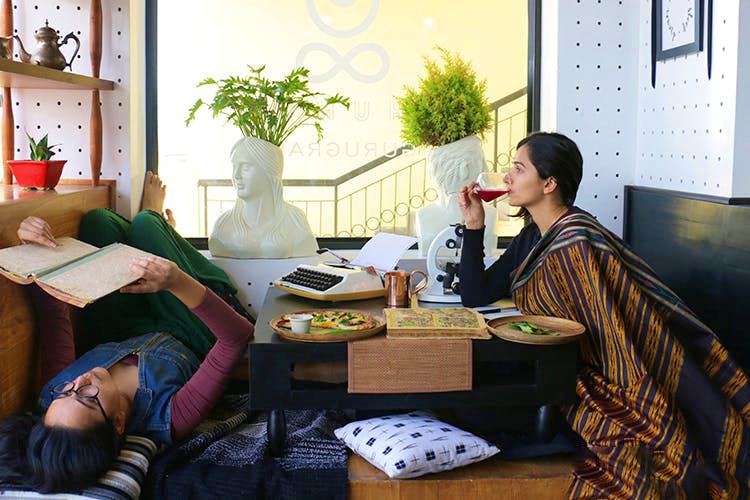 New Year Resolution To Eat Healthy? These 10 Places Can Help
Making a New Year's resolution to eat healthy and giving in to the chicken nugget cravings just a few weeks into the new year is something we've all been through. So, to help you conquer your diet plan and to make eating healthy a lot easier, check out these 10 places that have a world of healthy (but tasty) dishes to offer.
The Health Box
Don't give in to the pizza or momo cravings at work, choose The Health Box's farm-fresh salads and protein wraps instead. We're loving their under-300 calorie detox meals too, like the Egg White Quiche with Pesto Marinated Veggies, or the Mixed Vegetable Bake. They also have low-cal versions of the regular carb-loaded meals, like a variety of grilled wholewheat salad sandwiches to help you binge guilt-free.  
Cafe Shunya
All the Gurgaon peeps and those who have offices near DLF Phase 4, drop by Cafe Shunya for a quick bite. Workout smoothies, Raagi Brownies, Tomato Kasaundi Bun Omlette and Kombucha are some of our top picks at Shunya. And, if you're in the mood to pig out (minus the unwanted calories), try their detox and protein thalis like the Balanced Vegan Thali with Spinach & White Bean Grilled Sandwich, Almond Milk Thandai, Coconut Tapioca Pudding and more.
The Sunday Market at Bikaner House
Every Sunday, Bikaner House organises a market which brings together organic food vendors, home decor brands and cafes like The Altitude Cafe, Blue Tokai and more, that retail in yummy produce. Gluten and lactose-free Coconut Cakes, fresh almond milk, organic veggies, healthy dips and detox teas are some of the many things that will help you eat clean.
More details here.
Organic Me Farmer's Market in Ambience Mall
Organic Me is a market that happens every Saturday and Sunday from 12pm to 6pm in Gurgaon's Ambience Mall (near Hawker Street). You can find everything from organic veggies and fruits to nut butters, natural condiments, detox juices (& even juicers) and more. Kara Organics, Herb Garden (for herb planters), Adya Organics (pure ghee, raw honey etc.) and Health Kitchen by BB (healthy desserts) are some of the many popular brands here.
Kaberi's Nest
A gem in CR Park, Kaberi's Nest is an all-organic store that's got all kinds of healthy food items, groceries, skincare, cold cuts, snacks and more. If you really want to eat healthy at home, work and not just in a restaurant, stock up on this store's multi-grain yoga bars, kale chips, beet pasta, quinoa brown rice mix and do check out their section of vegan options too.

Greenr Cafe
Hands down, Greenr is one of the best places in the city, offering ample healthy options for specifically vegetarians, vegans and the lactose-intolerant. Their Meatless Meatball Burger (who would've thought!), earth bowls, healthy sodas and smoothie bowls are some of the yummiest dishes people keep coming back for (including the non-healthy freaks).

V's Bake Shop
V's Bake Shop has been our trusted baker for healthy desserts and she has recently opened a cute chai boutique in Chattarpur too. For when you wish to eat something sweet without compromising on your diet, try V's vegan and gluten-free chocolate cake, her orange and almond flour cookies, and this baker's got a Paleo section too.
Altitude Cafe & Deli
Altitude Cafe and Deli, situated in Meherchand market, is a charming cafe that promotes healthy eating through their wide range of fresh, organic, gluten-free and extremely healthy food options. Our favourites? Their Vegan Delight Pizza and Buttermilk Fried Chicken.

NutrioBox
They offer all-day breakfasts, healthy salads, wholewheat burgers, and even nutritious desserts. While their outlets might not be as hipster-looking as the south Delhi eateries, what they do offer is genuinely tasty and healthy food. Buddha Bowl, Exotic Fruit Bowl and Blueberry Chia Pudding are some of the many interesting options NutrioBox offers.
Getafix
Getafix believes in guilt-free indulgence, which is why you'll even notice pizza and burger on their menu (but made with wholewheat breads, healthy cheeses, fresh veggies etc). Choose from their range of cold-pressed juices, bowl meals and desserts (their Diet Vanilla Pound Cake!) without worrying about your calories now.
Comments