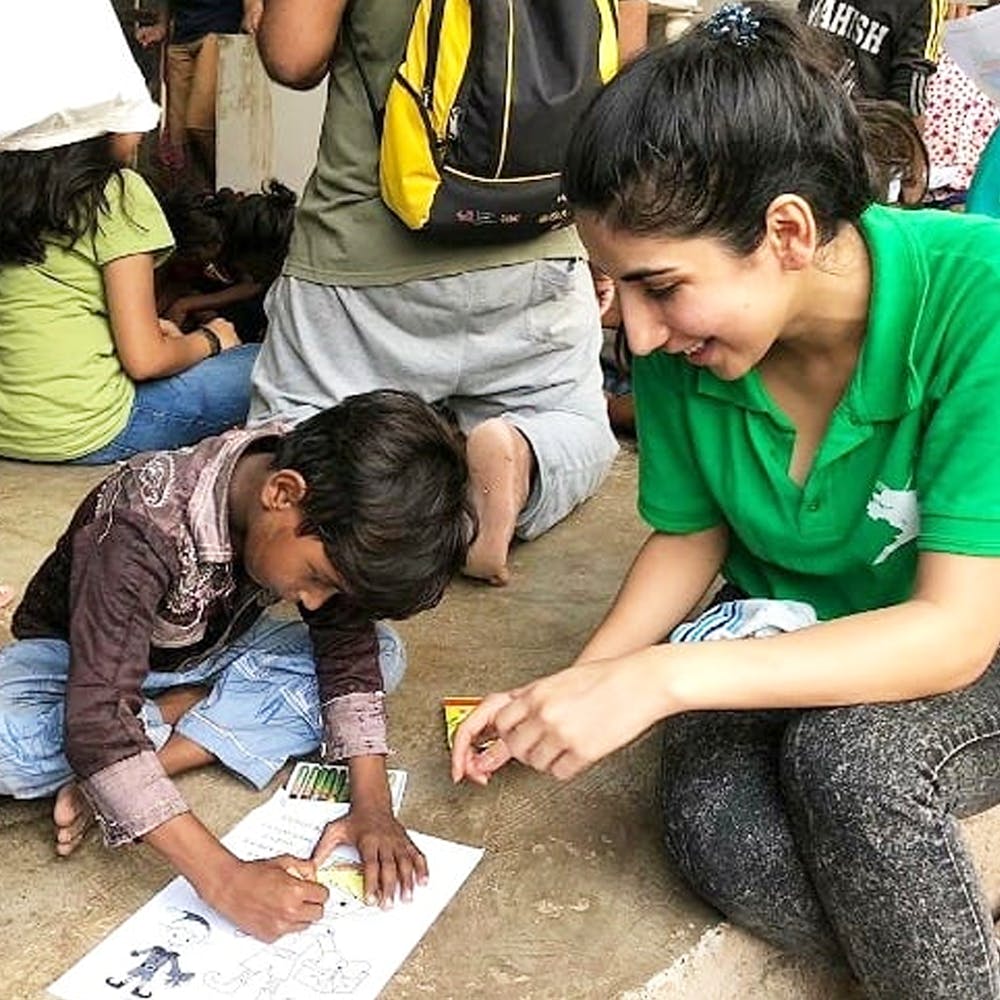 Do A Good Deed: Here Are 13 NGOs To Volunteer At To Make A Difference
If your corporate life has you stuck in a rut and questioning your own principles, fret not, we have a way you can fix it. Here are some great NGOs in Delhi that you can volunteer (even virtually) at to give life some more meaning.
Teach For India
Teach For India started as a nationwide movement to get the youth of today to help children who weren't lucky enough to have the same opportunities. They need people to mentor or teach any skills they know to kids. Their website has more details on this.
Friendicoes
Probably Delhi's most famous animal rescue and shelter, Friendicoes is located in Jangpura. The shelter (and adoption centre) provides a helpline ambulance service for animals, has a mobile equine clinic for horses, and also runs a neuter/spay programme. Friendicoes even has an animal sanctuary (with over 1,000 furry fellows in residence) in Gurgaon. They're always looking for volunteers and donations, so you know you'll be welcome!
Smile Foundation
If you're unsure about what you're good at, but know you want to help then you should approach Delhi-based Smile Foundation which has been around since 2002. Their organisation covers everything from healthcare and education to empowerment and disaster response.
Make A Wish Foundation
This NGO works with children who find themselves in the grips of terminal illness, and tries to make them a little happier—by granting them that one wish, they desire the most. It can range from something as simple as a Doraemon toy, to being a pastry chef for a day. The volunteer programme is very flexible, so you can choose the number of days, hours, and area of work as per your liking.
Rahi Foundation
Rahi focuses on creating a supportive environment for women who have been survivors of incest and child sexual abuse. One of the most important steps to creating that environment, they believe, is to create awareness around the issue, which is what they require their volunteers to help them with. Reach out to them via a call or a mail to find out how you can help.
Child Rights And You (CRY)
Child Rights And You has been championing children's rights for decades. Helping the millions of underprivileged children in India stay clothed, in school, and safe from violence is a tough task. Sometimes throwing money at a problem doesn't solve it, but getting up off the sofa and giving a few hours of your day does.
Robin Hood Army
The Robin Hood Army approaches local restaurants and donates their excess food to feed the underprivileged population. Initially a small team of volunteers, they have now grown into a national organisation spread across multiple cities, and could always use an extra set of hands. All they need is three hours per week, at least twice a month.
Om Foundation
With a focus on education and local development, Noida's Om Foundation runs a variety of programmes and a school located in Sector 51. Open to NGO and corporate sponsorship, the foundation also offers individuals the chance to choose the number of days, or specifically hours, they can volunteer for. While filling their volunteering form, you can mention how many hours you're comfortable giving, and they'll handle the rest.
Katha
With the aim to spread literacy and the importance of education, Katha has worked with over 600 writers and translators to help them publish books for children and adults. If words are your weapons, then Katha is probably the foundation suited to you. With carefully crafted programmes in publishing, social activism, and schooling, there is something for everyone, volunteer and beneficiary alike.
The Toy Bank
If you've ever wanted to play hero, then The Toy Bank is the NGO for you. Collecting and recycling toys for children in need, the foundation has the ability to leave both the recipient and the volunteer with silly grins on their faces. There are many ways to get involved, from donating or collecting toys, to organising camps, becoming a drop-off center and volunteering hours.
Lotus Petal Foundation
A charity and NGO for underprivileged children, The Lotus Petal Foundation focuses on healthcare and education for the less fortunate. Based in Gurgaon, they are could always use a helping hand in teaching, storytelling or more (the list is given on their website); or a donation.
People For Animals
People for Animals is one of India's largest animal welfare organisations, with a large national network of over 20 hospitals and 165 units. In Delhi, they can be found on Ashoka Road. If you love animals and want to help make a difference, we suggest you give them a call.
Picture Wala
A non-profit entertainment company for children, Picture Wala is an engaging and unique initiative. Using the mediums of music, film, art, theatre and comedy, the NGO entertains children of underprivileged families on the streets. Due to the nature of their work, the set-up is constantly shifting. This kind of effort requires as much help as possible, so shoot them an email and help out (especially if you have an artistic skill you can contribute with).
Comments