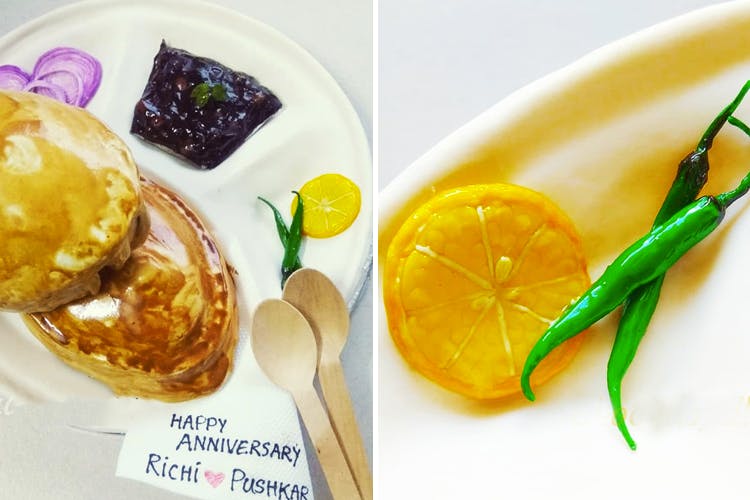 Believe It Or Not: This Noida Baker Makes Chhole Bhature Cakes & They Look So Real!
Shortcut
Designer cakes we've seen a dime and dozen but when we saw a Chole Bhature cake, we couldn't believe that we could eat everything down to the plate. The shocking resemblance to the real deal made us love Vaishali's five-years-old baking venture, Chocadoodle Do a little more.
It's All A Cakewalk For Her
Vaishali was an animator before she decided to replace her drawing board for a baking dish. This background in art meant that she was constantly experimenting with designs. Right from cute cupcakes with mushrooms to full-fledged cakes with poppers, she kept getting order after order, and the level of customisation kept her on her toes.
Till date, she works out of her ever-busy home studio. She also trains chefs at a culinary school and sometimes takes workshops to teach tiny tots their way around the oven.
Prepare To Get Flour-ed
She tells us that her personal favourites are the fruit cakes in Stella McCartney style. If you ask us, we're fascinated by these cupcakes with edible succulents and this bandhani saafa cake. Her trademark apple pies are a star as well. If you're also not one with a specific brief, she makes the usual chocolate, hazelnut, orange, vanilla and more.
Another great thing about Chocadoodle Do is their commitment to helping you eat better. Going off maida and white sugar was a big New Year's resolution for them, and unlike most of us, they decided to stick to it.
They do healthier versions catering to those who're adhering to Keto, vegan, Paleo and other such things. So, chakki atta, almond flour, millets and jaggery powder are the usual suspect on their kitchen slab. In fact, the chhole bhature cake in question, was also made in keeping with the cake-eater's unforgiving diet plan.
So, We're Saying...
Her rates start at INR 1,500 per kilo for cream cakes and INR 2,000 for basic fondants.
She also needs 15 days' notice for a customised cake, while a week to 10 days is enough if you're not going for elaborate artwork. While she delivers across Noida on her own, she gets Uber to make deliveries across Delhi and NCR, so the cost of the cake in transit is on the receiver in these cases.
Comments