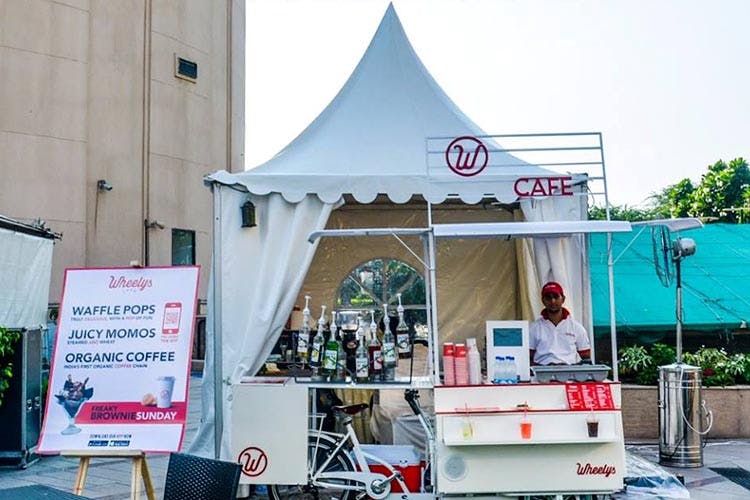 Nearest Metro Station:

NOIDA SEC 18
So Cool, Noida: You Must Try This Bicycle Cafe's Organic Coffee & Waffles On Sticks
Shortcut
Its hot chocolate season, and we found ourselves reminiscing about this coffee cart, and it's scent of freshly-brewed java, laden with waffle pops. So, we went back to see if they've still got their mojo, and they didn't disappoint.
What Makes It Awesome
There's something divine about the words 'organic' and 'coffee' together, and that's precisely why we love Wheely's so much. They had us at 'India's first organic bicycle cafe' — the coffee beans are sourced from plantations in Andhra. So, we decided to test if their offerings were worth their salt (after all, this is their first venture in India).
We got ourselves the Nutty Nutella Waffle pop, an Iced Coffee with hazelnut and an espresso. The waffle pops were perfectly done — crusty and crunchy on the outside and soft on the inside (none of the hollow ones that try to pass off as the real deal). The coffee, if you like the beans dark roasted, will have you going back over and over again. The iced coffee was not too milky, and not too sweet—just how we like it.
Their cold and hot coffee apart, they also serve momos (because, Delhi), wraps, muffins, shakes, chai and more. Still up on our to-try list is the Oreo Coffee, but we know we'll be visiting again this winter. We hear the world's had better momos, but better organic coffee? Nah.
End the shopping day at the mall at this tiny cart on the third floor, and you'll be thanking us for that much-needed dose of caffeine.
Meanwhile, Red Velvet Waffle, here we come.
What Could Be Better
Since they're known for their coffee, we'd love it if they add more coffee beverages such as Flat White and Mocha to the menu.
Comments
Nearest Metro Station:

NOIDA SEC 18