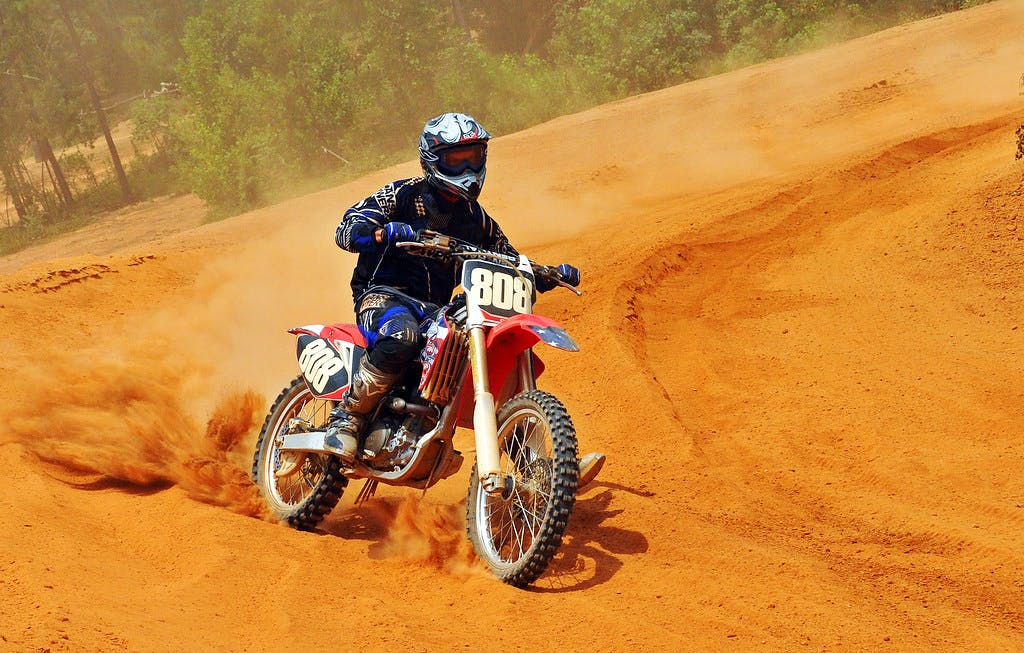 Adventure Junkies, Go Off-Roading At These 7 Kick Ass Trails In Gurgaon
Look past Gurgaon's high-rises because the city is generously gifted with a beautiful cover of Aravallis. Nature lovers, cyclists and off-roaders make up for the small community that are regulars at this stretch.
If you're someone who is interested in taking up a new hobby or are looking for newer spaces to go off-roading in, our list of open tracks and motocross tracks will surely rev up your experience!
Safety tip - If you're a beginner, don't go alone.
Summer Sprint
Located right next to the toll road on the GFR (Gurgaon-Faridabad Road), Summer Sprint is one the most visited open tracks in Gurgaon. You shouldn't have trouble finding it if you're coming from Damdama.
The track's length is approximately 18 kms long (36 kms up & down) and is perfect for off-road bikers. Don't expect designated routes as open tracks are based in forests.
So expect a weak signal strength and a lot of wilderness.
Difficulty level: High
Price: Free
Bandhwari Village
Bandhwari is a village popularly known for its lush green forest cover. Many cyclists and bikers have created open tracks here that you can follow. But if you're feeling too adventurous, you can find your own trail route too.
We suggest you ask the locals for directions as it's rather easy to be lost in Bandhwari. But if it's your first time, we highly recommend you take someone along. Also, you might need permission to ride here, from the local guards.
Difficulty level: High
Price: Free

Foothills of Aravalli
Open off-road tracks are best liked rugged and chunky, and the foothills of Aravallis are exactly that. The fact that it's a little away from the main city attracts nature-lovers, off-roaders and the adventurous.
Difficulty level: Moderate
Price: Free

Off The Road (O.T.R.)
Previously known as The Peddlar's Village, OTR is located opposite Gurgaon Talkies, Gwal Pahari. The track has a lap of 800 mts with hurdles, both big and small.
Difficulty level: Moderate
Price:
Moto Ranch
If you know Throttle Shrottle, you have an easy pass to Moto Ranch. One of Gurgaon's favourites, Moto Ranch has a track which is perfect for both, beginner and intense practice sessions.
You have to be a member at Throttle in order to ride at their track.
Difficulty level: Moderate
Price: To be disclosed
Off Road Adventure Zone
This place has the perfect terrain for off-road jeeps and buggies. They offer courses and also teach you the basics, if you ask. ORAZ also has arrangements for kids (ask for Joyrides) and beginners. You can choose from gypsies and ATVS, or even get your own vehicle. Get in touch with them on Facebook for more deals and packages.
Difficulty level: Easy
Price: Self owned 4x4 vehicle - INR 1500;
The MotoMazing Adventure Park
Perfect for big cars, the MotoMazing Adventure Park offers an amazing off-roading experience. Launched by Mr. Srikanth, it is one of India's largest dirt tracks. They have two separate tracks for racing and off-roading (2.75 kms long). MotoMazing also provide 4x4, if you're interested in carrying your own vehicle.
Difficulty level: Easy
Price: INR 1,000- 2,000 for 30 minutes (for dirt bikes and 4x4)
Ask Chhavi a question