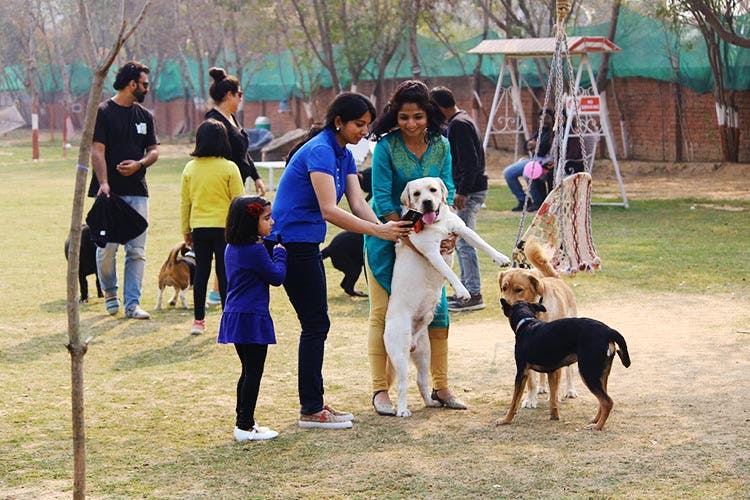 Nearest Metro Station:

HUDA CITY CENTRE
A Pool, Treats & Toys, Take Off The Leash & Let Your Pet Run Free At This Cafe In Gurgaon
Shortcut
Remember all the times you were out and wished your furry BFF was with you? You're not alone and the new crop of dog-friendly cafes and spaces is proof. Take, for instance, Off The Leash in Gurgaon – a park and cafe for you and your doggo to bond.
Dog's Day Out
Imagine a space where toys are free to play with, obstacles are not about life but about fun and there's so much space that neither your furry one nor you can fathom the possibilities. Now that you've imagined it, let us tell you how real it is. Off the Leash brings you the ultimate combination of play and party for both you and your dog. It is an enclosed farm-like space with loads of greenery, a pool, toys and treats.
The Paw-fect Binge
They have treats for both people and pets. Choose from regular beverages like tea and coffee and a treat on a stick for your fur baby. Chill at the gazebo, lounge on the cane furniture or explore the environs with your pet, this is bonding time and being able to do it over a cup of coffee and a bite is wonderful!
So, We're Saying...
Maximize your weekends and bond a wee bit better by taking out time for your pet. Remember to check out their timings and dole out just INR 400 for a day of sun, snacks and snuggles.
Also On Off The Leash - A Dog Park & Cafe
Comments
Nearest Metro Station:

HUDA CITY CENTRE