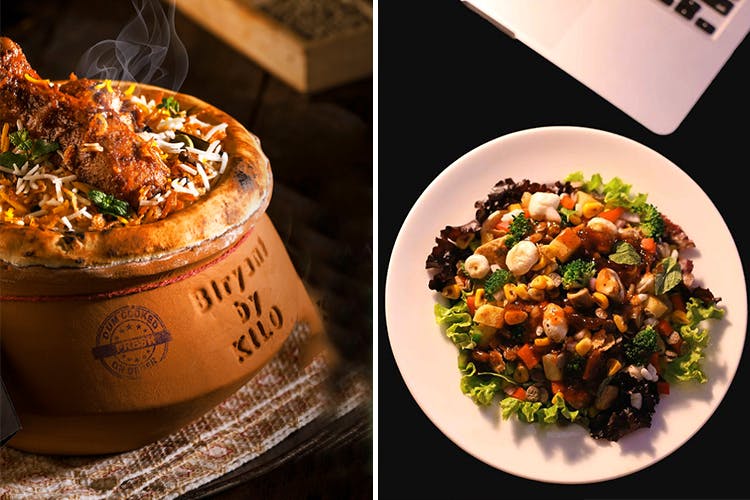 Office In Gurgaon? Here Are 4 Places To Grab A Delicious Lunch Under INR 500
The work life is tough and you've gotta hustle to make it. One thing that keeps most of us at the desk going is the idea of a delicious lunch! However, it doesn't take too long to figure out that ordering lunch can burn quite a hole in your pocket. That's why, we've got you a guide to ordering appetising food that is both filling and pocket-friendly.
1. Thali From Naivedyam
Loved for its authentic South Indian, Naivedyam's Maharaja Thali and buttermilk have regulars constantly coming back for more. With a wide variety of Idlis, Vada, Dosa and Uttapams, their thalis offer something wholesome and different. Naivedyam even has a Tiffin Thali with assorted snacks so that you don't have to settle for boring salads and sandwiches for lunch. The Thalis start at INR 210 and promise to leave you feeling full and happy.
2. Pasta From Jarfull
Jarfull is changing the way meals are served; pasta, lasagna or desserts, everything comes to the table in cute jars! Starting at INR 229, they serve some delicious pasta in jars. What has our attention is the flavourful lasagna that they fill up in a jar and honestly, it causes practically no mess at the table.
3. Biryani From Biryani By Kilo
From Lucknow to Hyderabad to Kolkata and an array of curries thrown in for good measure, Biryani By Kilo has all our biryani desires worked out to a T. Junk the plates and choose between half kg and one kg portions because it all starts at just INR 325.
4. Healthy Salads From Salad Days
If you're calorie-conscious and prefer some healthy stuff that doesn't add to your waistline, order from Salad Days. They've got vegetable salads, fruit salads and non-vegetarian salads. Our personal favourites include the Asian Noodle Salad, Wild Rice and Chicken Salad and the Seafood Salad. You can wash these down with one of their cold-pressed juices. The salads start at just INR 220!
Comments