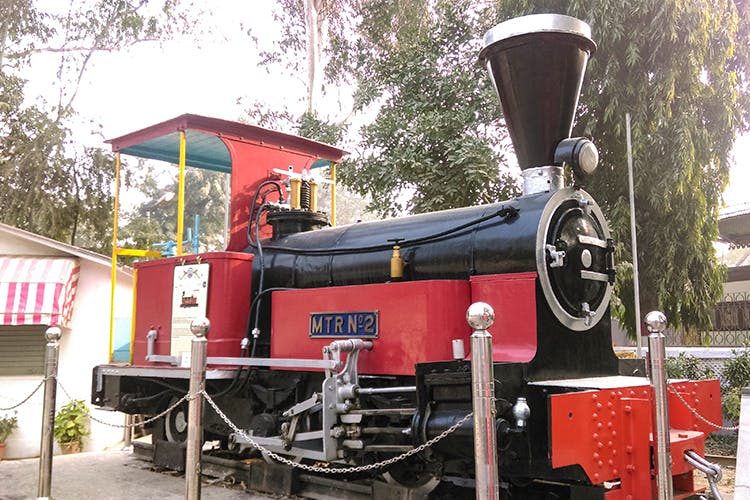 On Track: Simulated, Life-Sized & Minuscule Models At Rail Museum
Shortcut
With model trains and a rail garden, a joy train and life-sized colonial bogies and engines, the National Rail Museum is one of the most well-maintained spaces in Delhi, and one of the most fun outings we've had in a while.
Exhilarating Exhibits
With over 100 'real-size' exhibits from times long gone, National Rail Museum is the perfect day out for families. Revel in static and working model trains, signalling equipment, antique furniture, historical photographs and literature.
The Prince of Wales' and Maharaja of Mysore's saloons are displayed in the museum too, with their brocade seats and wooden beds.
The clean and vibrant indoors that light up the various dioramas make the information easy to read and enjoy. After the indoor gallery, we got on the 1:8 Joy Train ride, which toots its horn just like a real train. It goes through the park, taking you through the miniature model train park, waterfall, tunnels, bridges, engines, bogies and more.
The tiny working model train park has 1:22.5 sized trains chugging along merrily through the model Howrah Bridge, Wankhede Stadium, stations of Lucknow, Bombay, Chennai and more.
Making Way For The Rails
Pretty amazed with the interactive kiosks, helpful staff and the general upkeep of the area, we wandered into their souvenir shop which has everything from train themed T-shirts to model train sets. You can even get embossed ties and pens, or emblem key chains that have signs of the East, North, South and West railways.
We hope you make your way to this merry place soon. There's a lot to see and you can experience the railway coffee and tea from the IRCTC kiosk.
More Information
National Rail Museum
Nearest Metro Station: RACE COURSE
Comments