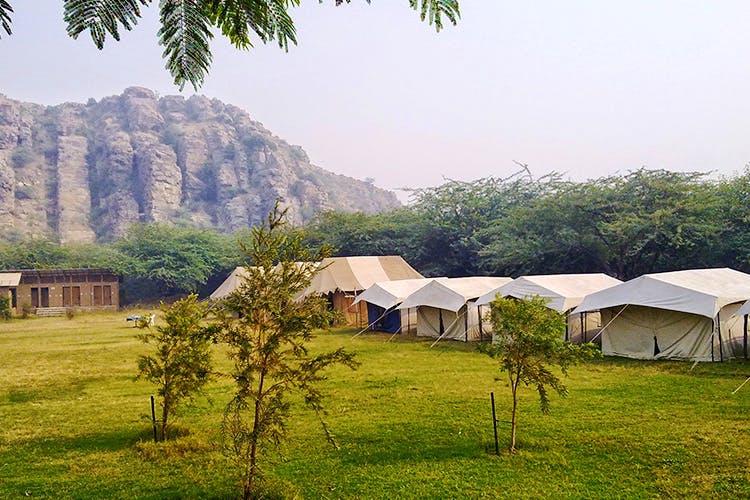 Can't Skip Office? These 8 One-Day Trips Around Delhi Are Exactly What You Need
We get it, taking leave every time you need a break from the city is not the most viable option, and you'd rather save your time off for a rainy day. And, if you're bored of the usual mall-and-movie scene, we've found ten getaways and resorts less than two hours away from Delhi for day picnics, with tons of fun activities, open fields and of course, lots of chilling time.
If you thought that everything idyllic has to be at least four to five hours away from Delhi, you'll be surprised by how close these fun getaways are to us city dwellers.
Camp Wild, Dhauj
Less than 30 kms from Delhi, Camp Wild is the perfect spot to unwind, with a bunch of cool activities like zorbing, rappelling, rock-climbing and if you've always wanted to ride mountain bikes; look no further. We also hear that there's a hidden lake nearby, so if you're active camper, a trek to the lake just might be the highlight of your trip.
Price: Packages starting at INR 1,500/person (includes two meals, snacks and activities).
Frenzy Adventure Zone, Gurgaon
If you and your friends are big-time adventure junkies, the Frenzy Adventure Zone with its sky cycles, rocket-ejectors and zip lining won't disappoint. This adventure park's great for families too—they've got a children's section with trampolines, kids' obstacle rope course and Columbus and helicopter rides. Now, when was the last time you went to an adventure park with fam? Buy packages at Frenzy now!
Price: Adventure packages starting at INR 450/adult.
Golden Creepers Farm Retreat, Gurgaon
Just near the Sultanpur Bird Sanctuary is the Golden Creepers Farm Retreat—a place offering fun, farm activities like bullock cart and tractor rides, making buttermilk, mud-wall painting, charkha weaving and other pastoral activities that'll make you appreciate the simple days of yore. Since it's so close to Sultanpur Sanctuary, this place is perfect for bird-watching, too. Plus, nothing can cure your city blues like a refreshing mud bath followed by a hearty meal of stuffed parathas, jalebi garma garam and of course, chhaach.
Price: Varies depending on the kind of activities you opt for, but packages are available for a minimum group size of 15 people.
NeverEnuf Garden Railway, Gurgaon
This garden is especially great for all the families, and for those who love trains. NeverEnuf Garden Railway, as the name suggests, is a park dedicated to remote-controlled miniature trains going around hills, over winding bridges and navigating through tiny houses. While your kids will definitely have a great time painting and filling activity sheets in this Lilliputian world, you too will be impressed by the trains that have been created with meticulous detailing. Don't forget to carry your picnic basket too, because it's just the perfect spot to have one.
Price: Entry fee starting at INR 550/person.
Pratapgarh Farms, Jhajjar
On your trip to Pratapgarh Farms, expect rolling green fields, cattle barns, pottery workshops and a chance to experience the raw (yet stunning) rural life. You can go all out and play a round of gilli danda, pithoo or kabbadi (family edition, of course) or try your hand at archery, at milking goats and painting matkas. A farm fresh meal with makke ki roti, sarson ka saag, rabri and sugarcane juice straight from the field is probably what we'd look forward to the most.
Price: Starting at INR 1,230/adult.
Lohagarh Farms, Sohna Road
If pampering yourself with head massages and tube well baths, swinging through sections of a park like Tarzan and loosening up at the massive trampolines seem like your idea of fun, head to Lohagarh Farms now. To ensure that there's never a dull moment at this farm, there are local artisans at work and folk musicians you can always interact with. The fact that it's just over 1.5 hours away from Delhi is probably another reason why we're in love with Lohagarh Farms.
Price: Starting at INR 1,150/adult.
The Prodigal Cook Farm, Noida
How about going out of town for a farm-fresh open-air brunch this winter? The Prodigal Cook Farm has interesting things on their four-course menu, including organic beverages, salads, banana and sweet-potato muffins, makki ki roti and saag, veggie burgers and even coffee. What better way to chill than by hogging on great organic meals, right?
Price: INR 1,450/person.
Beejom's Farm, Noida
If you're an animal lover, Beejom's Farm in Noida with cows, goats, friendly donkeys and cute buffalo babies will be your paradise. While the farm's known for its efforts to promote sustainable living, there's lots you can do too. There's pottery-making with cow dung, horse-riding, tending rabbits and you can also enjoy a farm-fresh organic lunch (upon request). The folks at Beejom's also let you customise your time here with a bonfire and dinner scene. Be sure to call up and check though.
Price: Starting at INR 500/person for groups of more than 10 to 15 people (AI).
Between 2–6pm on Saturdays, all of Beejom's fresh organic produce is up for sale. Drop by then maybe (entry is free).
Comments