The information in this post might be outdated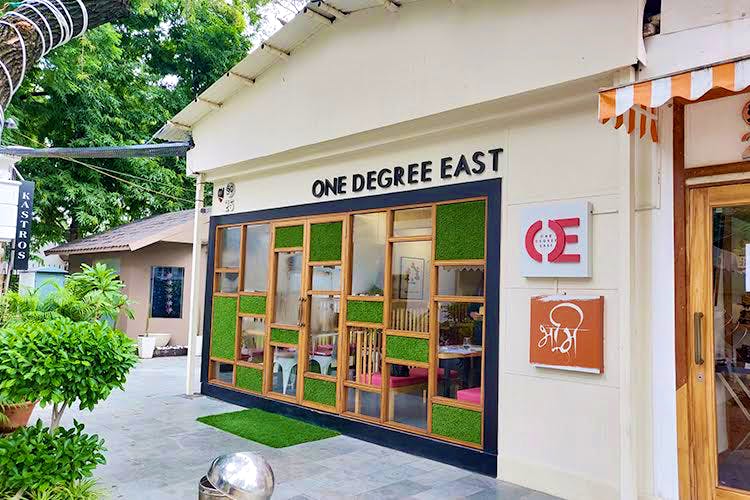 #HighOnThai: 6 Dishes You Must Try At This Hidden Delhi Gem
Shortcut
Authentic Thai cuisine, Insta-worthy surroundings, a peaceful meal with bae—get it all at One Degree East (or as we're calling it, ODE) in Santushti Complex. This new restaurant's peppy charm instantly won us over with its Eastern delicacies! Best part? It's calm aura away from the city chaos has us planning our next visit already. Here are our top favourites from the menu.

A Prawn Start
If perfectly buttered and tender prawns is what you crave for in Delhi, then Prawn In Lemon-Butter-Basil Sauce is a must. Drizzled with basil and garlic and marinated in tangy sauce, it's ideal to begin the meal on a light note. Pair it with ODE's special lemonade for that sweet and tangy delight.

Not Your Usual Salad
Pair your appetiser with our salad of choice - Yam Phok Krob. A plate packs the perfect crunchy bites with all the veggies soaked in a sweet, sour and tangy dressing. Perfect for sharing with your plus one, it'll prepare you well for the scrumptious mains ahead!

You Win Some, You Dim Sum
The dumplings look divine here and picking just one wasn't an easy affair. Prepare to be wowed by a basket of freshly steamed Shanghai Chicken Dim Sums and devour each of these perfectly bite-sized parcels playing on your tastebuds with the three accompanying dips.

Veggie Lovers, Ahoy!
Consider those cravings for Thai flavours satisfied with Green Curry Vegetable - a bowl of pesto coconut curry accompanied with some jasmine rice. Such decadent bites with happy conversations is sure to brighten up your day.

O-Fish-ally Awesome
Crispy outside and soft inside, Pla Lad Phrik, a sole fish dish is an absolute delight! With chilli-garlic flavours and drizzled with herbs, add it to your mains or enjoy this as a finger food while sipping away on ODE's fizzy ginger ale.

Sweet (Thai) Escape
There's always room for dessert (and we're more than happy to make some more!) Refresh your taste buds with the coconut and almond cake with a side of vanilla ice cream. Of course, we didn't stop at just one dessert. The date pancakes with in the form of crispy wraps were an absolute pleasant surprise!

So, We're Saying...
Head over to One Degree East for great Thai food and happy vibes! This is one place where those Insta-worthy food wishes come to life, and the dishes will have you rolling in a pleasant fusion of flavours.

More Information
One Degree East Cafe
Nearest Metro Station: JORBAGH
Comments