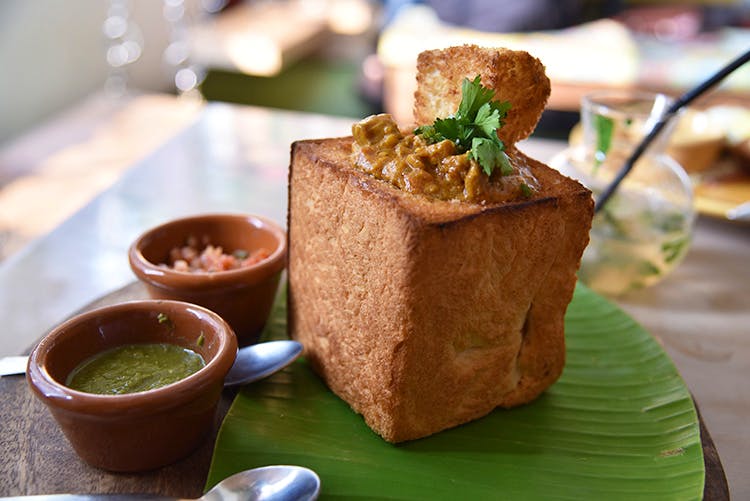 Our Story Bistro for Scotch Eggs and Cinnamon Ice Cream in Noida
Shortcut
The latest offering in Sector 18 Noida is Our Story Bistro and Tea Room. Located next to Karim's, this beautifully decorated cafe is spread over two floors, and is perfect for brunch.
Must Eat
A plate full of Masala Keema Scotch Eggs, which are basically boiled eggs coated with keema and deep-fried. Although the dish is a little dry, the eggs were pretty tasty.
The manager recommended the Non Veg Bunny Chao, which was the star of the afternoon. Inspired by an African dish, this is a chicken gravy, reminiscent of pao bhaji, filled inside a toasted loaf of bread. You "break" the bread as you wade your way through the yummy delicious chicken. The tomato dip and green chutney were the perfect accompaniments to the dish.
For dessert, we ordered their homemade cinnamon ice cream. A generous helping, this dessert will grow on you. We weren't super impressed with the first bite, but with every subsequent mouthful, the subtle flavour of cinnamon got us hooked.
We also overheard appreciative murmurs about Mutton Khichda, Tawa Paneer Khurchan with Oven Baked Naan and the sizzlers from the tables nearby.
Must Drink
The Lytchee Martini was a tad too sweet for our taste, but refreshing nonetheless. It came in a small, matka like glass. An increase in the quantity of the beverage would make it absolutely worth it.
What we Loved
The loo! We were initially apprehensive that there was only one washroom for both men and women, but it was among the most well-decorated washrooms that we've ever visited. Extremely spacious, covered with tiles in light blue, everything was spick and span, and hygienic. Potted plants and aromatics definitely got our thumbs up!
As you reach the first floor, after taking the steep flight of stairs, you can't help but stop and appreciate the amazing artwork on the black wall. Tastefully done interiors in pastel shades greet you, with a live kitchen.
They even have games like Chess and Scrabble, making the cafe perfect for when you want to laze around on hot, sunny afternoons. The second floor has a separate section, which has cozy jhoolas; perfect for reading a book with a cuppa. The dishes are moderately priced; given the quantity of all main course meals.
What didn't impress us
The quantity of the beverages can definitely be increased, but that's all we got to complain about.
What is the best time to visit?
It's definitely a morning/brunch sort of cafe.
Anything else?
A special mention goes to their green chutney: The moment you see it on your plate, you feel slightly disappointed that it's the same old green chutney, but one spoon down, and you'll change your mind.
#LBBTip
They have a small library too!
Price: INR 1,200 for two {approx.}
Timings: 9am – 12am
More Information
Our Story Pub by Sherlock's
Nearest Metro Station: NOIDA SEC 18
Comments