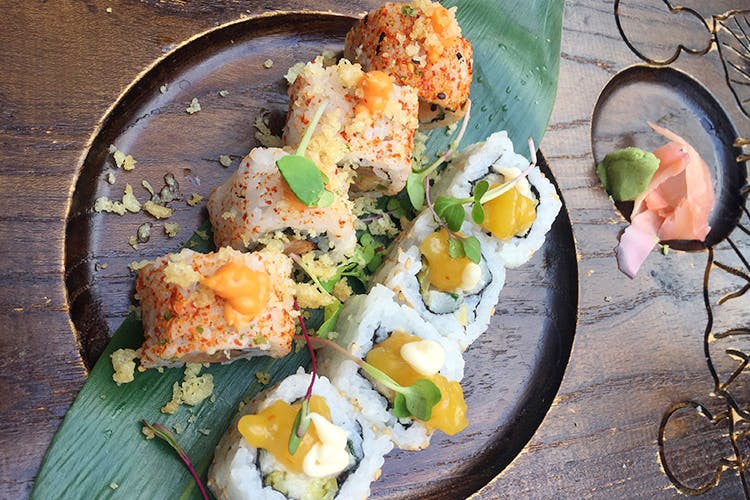 The Sunday Brunch At Pa Pa Ya Is A Delish Mix Of Meats & Alcohol
Shortcut
Pa Pa Ya wows with Sunday decadence that stars unlimited sushi, dim sums, duck, and even bubbly if you're in the mood for it.
Small Platters Of Deliciousness
The brunch offering here is a mix of a la carte and buffet- there are limited options to choose from, and you get them served fresh on your table, but there are unlimited rounds you can have of each. We enjoyed the corn cakes, slightly sweet plump prawns and very juicy chicken dumplings. The sushi is on point too, and everyone loved the avocado version.
Duck Tales
Two words: Peking Duck! Pa Pa Ya pays fine tribute to our favourite water baby, and at the Sunday Brunch you can stuff yourself silly with crispy meaty slices either straight up, dunked in sweet bean sauce, or the more traditional way, complete with pancakes, Hoisin sauce, sliced cucumber and scallions. Either ways, its distinctive taste and flavour will have you craving for more. A more indulgent and hearty way to savour this treat is through the Chilli Hoisin Duck Dogs- a throwback to a classic, starring soft moist bread packed with meat and sauce. A messy and happy treat, indeed!
End your afternoon here with a the boozy Chocolate Ball which comes with nuts, raisins, chocolate brownie flambéed with rum.
What Didn't Impress Us Much
The Sunday Brunch isn't very fair for vegetarians, with a limited set of options (only one Dimsum option and no duck, of course!) for the same price.
Also, the mains are a little underwhelming, classic crowd pleasing fare, but play second fiddle to earlier courses.
#LBBTip
There is an option to take your gluttony to the next level with unlimited beer and IMFL for INR 1,000 plus taxes or chilled never-ending goblets of sparkling wine for INR 1,500 plus taxes. It won't be easy making your way out of the mall after this. *hic*
More Information
Pa Pa Ya
Nearest Metro Station: MALVIYA NAGAR
Comments