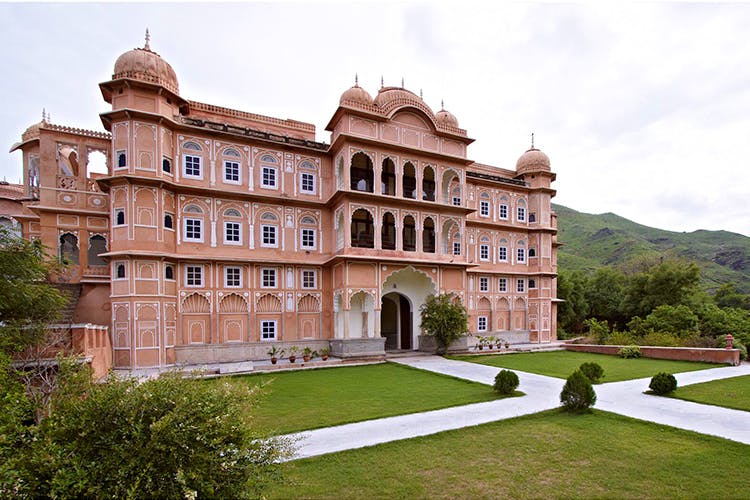 Fort Views & Lavish Pools: This 12th Century Property Is 4 Hours Away From Delhi
Shortcut
Just over a four-hour drive from Delhi right off the Jaipur highway, Patan Mahal is a private heritage home surrounded by high Aravallis on one side and a private farm on the other. This property is ideal for those arriving on day flights, for weekenders from Delhi and Jaipur and also history buffs.
Live The Royal Life
A 12th century palace, Patan Mahal was also the site for one of the great battles in Indian history – the Battle of Patan in 1790 where the Maratha Confedaracy was pitted against the Rajputs of Jaipur and their Mughal allies. Considering that it is a palatial property, one can find spacious, beautifully furnished suites and royal suites, manicured lawns and large terraces where you can enjoy surreal views of the Aravallis.
Because of its location in the valley of the Aravallis, which is touted as the highest among the ranges in Rajasthan, there are several treks to the fort near high ridges, the monsoon palace and to the villages that you can undertake. The farms around Patan Mahal are some other areas for interesting explorations and while you're here, be sure to check out their outdoor swimming pool that's the perfect place to laze around and spend warm afternoons. There's also an in-house restaurant that does stellar Rajasthani cuisine and you can enjoy private barbecue sessions with your family too. A library and a table tennis court are among the many other facilities offered at Patan Mahal.
So, We're Saying...
This architectural beauty with multi-coloured windows and a rustic old world charm lies less than five hours away from Delhi, so you've got more reasons to plan a trip to Jaipur with the crew or your fam.
Comments