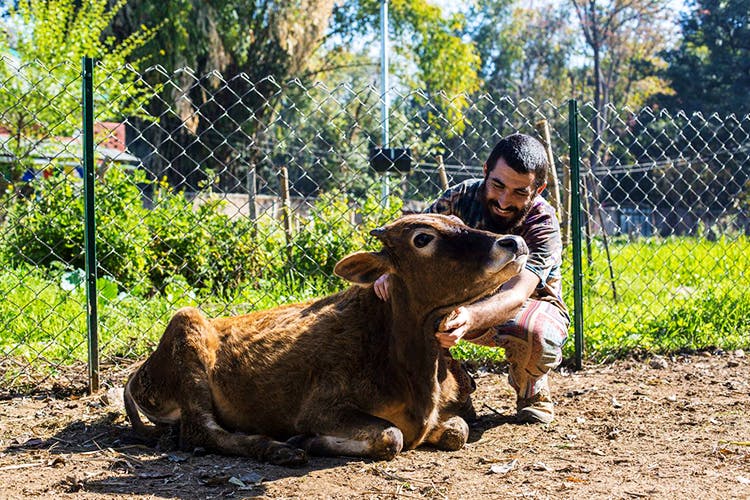 Volunteer At Peepal Farm In Dharamshala & Spend Your Next Holiday Treating Injured Animals
Shortcut
Peepal Farm, near Dharamshala, is committed to treating injured stray animals and have now opened their gates to all the compassionate souls who want to help.
The Animal Farm
The non-profit organisation consists of a group of people who aim to lead simple lives and do good work. They seek out injured animals and, since they are based out of Dharamshala, a large proportion of these are dogs and cows. You can just swing by and play with the animals for a day or make a longer commitment to volunteer and stay for a few days. They also allow paying guests who want to simply experience farm life and veganism for a few days.
If you wish to work, they show you the ropes around the farm, and give you practical knowledge on how to care for animals, how to remedy injuries, and what medication they use.
Badmash Peepal
Your stay will include very simple accommodation, vegan food, a farm, a cowshed and a clinic for the animals. This is not the place to go for a luxury vacation, but if you want to get your hands dirty and play with doggies, they will be happy to host you.
You can even take back some organic produce from the farm which includes organic mint, basil and turmeric or ready-to-eat stuff like peanut butter, muesli and a mixed vegan snack.
Anything Else?
Peepal Farm accepts monetary donations which are exclusively used for animal care supplies; you can also check out their list of required medical supplies, equipment and other animal care paraphernalia.
However, the most powerful way you can make a difference is to sign up for an offbeat vacation and offer your physical services.
Comments