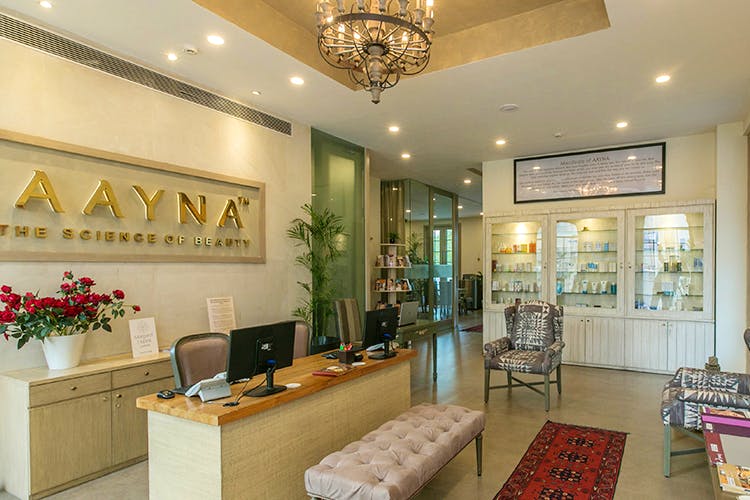 Be Make Up Ready With Semi Permanent Cosmetic Solutions From AAYNA Clinic!
Shortcut
We are no stranger to hectic schedules, long hours & constantly being on the move. In the process, we always end up neglecting ourselves and having bad hair days and forgetting about the daily skin damage we keep going through. Don't stress! Aayna Clinic is going to keep you covered and make you feel beautiful when you don't have time to spare in the best way possible!
AAYNA has introduced Semi-Permanent Make Up which is a state of the art technology that uses pigments to improve, correct and enhance your features in a natural way. It's time to ditch the permanent tattoo and shift to something better.
Pamper Yourself
There's no doubt that we want our eyes, eyebrows & lips to always be on point. We just don't have the time or end up overdoing it and then throw up our hands in frustration. Cosmetic Micropigmentation comes to our rescue. It maintains the effect from for up to three years and makes you feel fabulous all the time, so always be ready to step out looking gorgeous!
Thicker Eyebrows For A Bolder Look
Are you sick of taking forever and struggling with eyebrow pencil every day and still not getting the look you want? Semi-permanent make-up can help your eyebrows look thicker and defined & in the most scientific way possible. Fine applicators are used to make hair by hair strokes to enhance the eyebrows and give natural looking results.
Pucker Those Lips
We want the luscious lips but over time we either lose the lip liners or leave the thickness undefined. AAYNA Clinic can help you get fuller and defined lips by giving definition to the borders & correcting the shape and symmetry. The borders are softly defined and blended in with the body of the lip giving it a perfect finish! Imagine getting rid of the hassle of reapplying lipstick all day long.
Line It Right
Let's face it, eyeliners are not something we can ever get the hang of perfectly, we always end up smudging it. It doesn't stop there, taking off the eyeliner at night and then reapplying it in the morning doesn't really make it easy for us. That's why you need the semi-permanent makeup treatment from AAYNA Clinic to look on point all the time.
Lion's Mane
A bald spot scares us a lot more than when someone takes our spot. If you have scanty hair, they can help you get a much fuller head of hair by simulating the hair follicles on your scalp!
Porcelain Skin
Patchy skin is not desirable and can really undermine your confidence. By using skin camouflage techniques which include color testing they match the correct color to your normal skin and give you the skin you always wanted.
More Information
AAYNA Clinic
Nearest Metro Station: SAKET
Comments