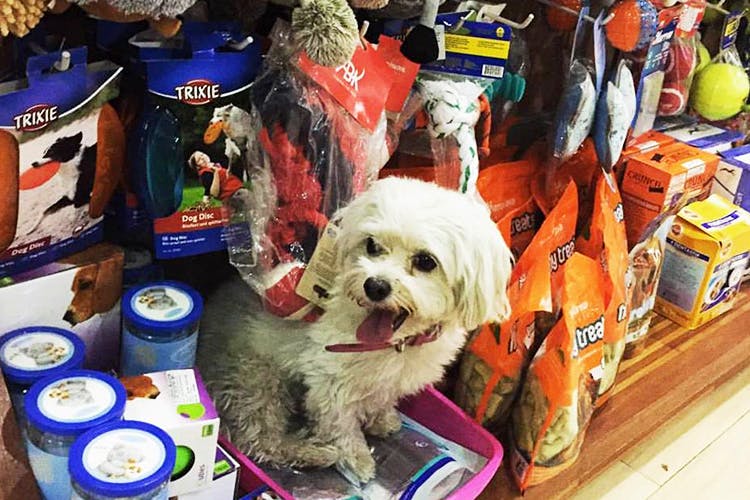 Feeding Bowls, Treats & Leashes: These Pet Shops In Gurgaon Have It All
From stuffed toys to imported gourmet foods, these pet stores in Gurgaon are stocked with everything your furry friend might need.
Oasis, Nirvana Courtyard
The Oasis store in Nirvana Courtyard is the most beautiful pet store we've been to. The store is located on the outer side of the market, near Sonya Bakery. Oasis stocks leashes (rope chains, silver metal chain and even light ones for puppies!), basic and vibrant collars, harnesses, treats (like biscuits, bones, chew sticks, jerky, etc.), packaged foods (available in veg and non veg options), toys (mostly in silicone) and a wide range of beds, cages, and bird houses. Yep, that's a lot. They have a range of products for a variety of pets including dogs, cats, hamsters, guinea pigs, mice and also fish.
Long story short, no matter how basic or fancy pet supplies you're looking to buy, Oasis has it all!
Dog Spa & Pet Shop, Galleria
This Dog Spa also has a great nook for shopping – even if your doggo or cat isn't there for a pampering session, it's a good idea to stop by. We totally love their collection of bow ties, dog toys and treats (not the usual rubber chicken and rope loops, but some rather interesting shapes and figures).
They also have a few imported dog food brands that are disease specific.
Red Paws, Super Mart
This is where you need to head if you're looking for brands like Trixie, Kong, Ruffwear, Pet Head, Isle of Dog, Orijen, Acana, Arden Grange and Bio Groom. With an in-store spa and a separate section for cats, Red Paws is always stocked with hair ties, bows, pet fashion and even travel accessories. This is also where you can pick up adorable Beco Family stuffed toys, like Aretha the Alligator and Michelle the Monkey, for pooches who like nap time company.
P.S. They home-deliver as well.
Critterati, Phase IV
The pet shop in the basement of luxury pet hotel, Critterati has lots of unusual 'gifts' for your pet. If you are celebrating your pet's birthday or just love indulging them, it has a selection of imported bags and cans of pet food you're not likely to find elsewhere in town. Though what truly stands out is their collection of pet-themed collectibles – from cushions, wall art, and coffee mugs to deodorant sprays, perfumes, and name tags.

Pet Paw, South Point Mall
Located on the top floor of South Point mall, Pet Paw doesn't have a huge range but the basics are available at all times. From collars, leashes and harnesses to a variety of dog and cat food brands. They also have a small selection of chew toys and standard brands of dog biscuits and snacks.

Pet Gallery, Sushant Shopping Arcade
Pet Gallery has some of the finest brands when it comes to imported pet food. You're likely to find Farmina and Hill's food brands here, apart from a host of pet stuff. Their stock also has a lot of products for fish and birds – from foods to medicine.
Their selection of grooming products is worth checking out; they have a variety of brushes and bath scrubs along with skin-sensitive and tick shampoos. While you're there, have a look at the feeding bowls and beds too, every possible size is available.
Comments