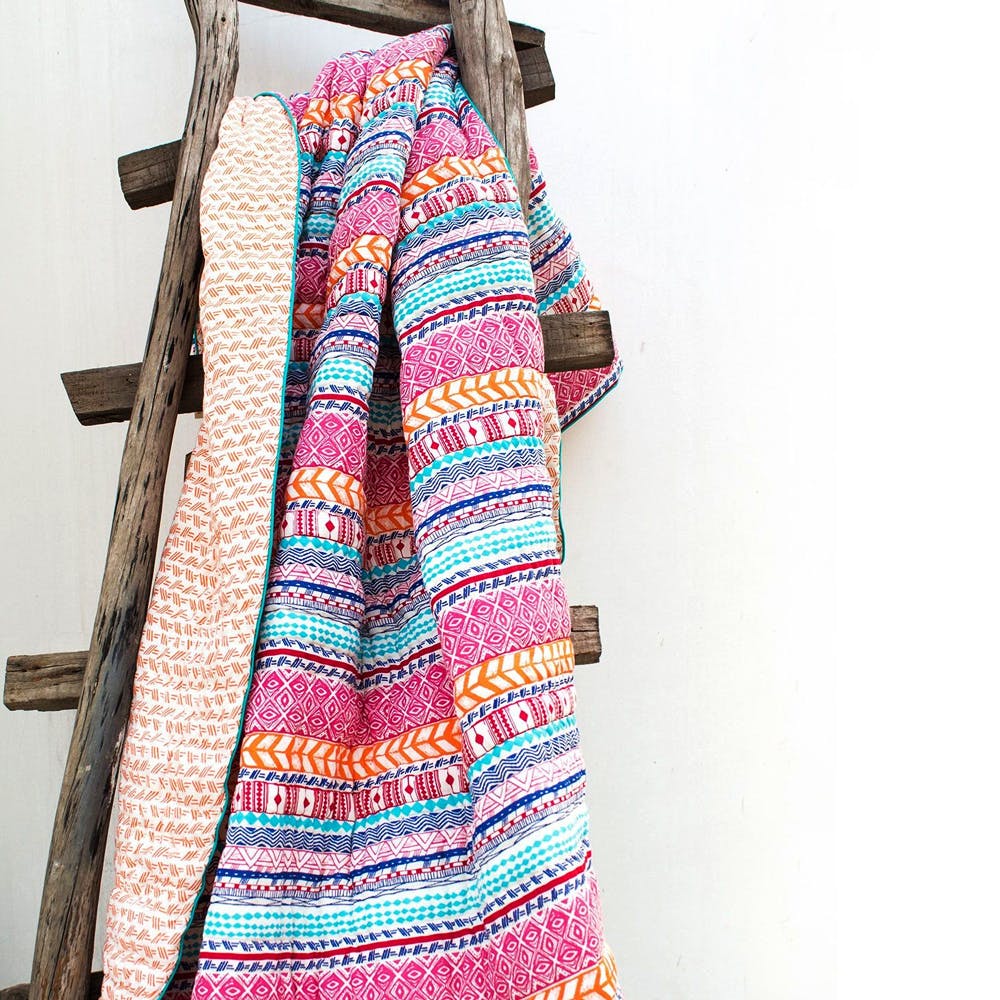 The Weather's Changing: These 10 Places Have Jaipuri Razais That Are Perfect For Curling Up In
Whether you're a winter person or not, you know it's coming. To make things better, we've rounded up a list of trusted brands where our mums and house proud aunts have been buying dohars from since forever.
Most of these brands stock up Jaipuri razais online but going to the nearest store is a better idea. Maybe it's just us but the thought of browsing through all the pretty bed linen and picking up a few hand-made soaps or coffee on the way makes razai buying even more exciting.
Suvasa
Colourful dohars and men's shirts are two things that take us to Suvasa often. Bed linen is one of their strong areas too. The quilts are made from natural fibre and the single ones start at INR 1,300. So a trip to their store might well be worth your time and energy (unfortunately, they don't retail online).
Dastkari Collection
A colleague checked out this home decor store in Shahpur Jat and we've all heard good things about finding cool crockery and edgy lamps. She tells us that they also have a well-stocked collection of dohars that are soft as a cloud. We like whatever little we see of them.
Pinklay
Just like Good Earth, Pinklay doesn't have too many choices either. The fact that we do love about them is that most of their designs and colours are a pop of sunshine that can brighten up the dullest Mondays. The stars and parrots are utterly adorable too. We're loving these for days when we just don't wanna adult.
Jaypore
We find ourselves shopping at Jaypore on days we're feeling indulgent. Their forte, the unique spin they put on regular stuff keeps us going back. The quilts are no different; a refreshing change from the usual Jaipuri patterns. Hey, they've also got razais with pretty little sparrows and cloud prints that you won't find elsewhere.
Ethnic Rajasthan
Affordable, an impressive range and a chance to shop from the bed… Ethnic Rajasthan has a lot going for it. They source products from all over Rajasthan and everything's handmade. The patchwork ones are the ones we're eyeing.
FabIndia
When in doubt, FabIndia. Unlike their other stuff, it's good to see that the dohars are approximately priced in the same bracket as the other brands. This makes quilt shopping a lot more rewarding here. Check out what they got online – we're pretty sure you'll find that perfect one to Netflix and chill your way through Delhi winter.
Soma
Soma's Meherchand outlet has been our comfort spot. The peculiar smell of the fabrics and their love for mul (and block prints in general), makes us want to overspend every single time. It helps that it's more affordable than the neighbouring FabIndia (the clothes for sure). It's then no surprise that we find ourselves liking a lot of their dohars that are peppy yet soothing. Pick from the warm hues or stick to the white – they've got both.
By Adab
Ask any mummy and she'd have been to this bed and bath linen store in GK. Not just great for gifting, we'd like to mention that a lot of our quilts are from here. The biggest reason being the attention they pay to every piece. Their cruelty-free range of comforters don't put the birds through any torture and we're totally moved by the approach. Go here if professionalism and expert view is what you seek.
Good Earth
Minimal but crafted with great care, Good Earth doesn't believe in over-delivering on variety. Less is truly more with this brand and we'd suggest you check them out if you dig whites and pastels.
IDAM
A lover of trippy patterns? You gotta browse through IDAM's happy razais. They start at INR 2,950 but if you're looking at a room makeover, this is perhaps a big enough addition to perk up that pad with minimum effort. 
Comments