The information in this post might be outdated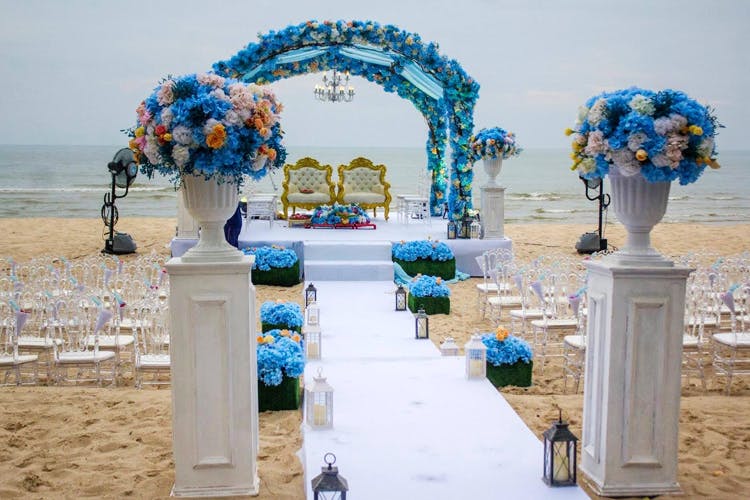 Planning A Destination Wedding? Head To This Beachfront Property In Thailand For #WeddingGoals
Decided to take the plunge and put a ring on it? We say ditch the city and head to the Palayana Hua Hin Resort in Thailand for your dream wedding. State-of-the art decor, wedding venue on the beach, spacious rooms and more—they've thought it all out!
Tie The Knot
Wedding stress? The amenities at this fancy resort will rid you of all that agony and anxiety of planning a wedding. Breathtaking beach venue to private rooms for bachelor parties, spacious ballrooms to magnificent spas—these are just a handful of the things that'll keep you happy and peaceful. Take your pick between garden views, pool views, island villas and more to pamper yourself and your guests with.
Head over for a peaceful swim to their fancy pool and order yourself a drink for that much-needed break from all the wedding shenanigans. We also hear that pool parties can be a fun way to say goodbye to your bachelorhood. Brides and bridesmaids, head over to their Yana Spa and spoil yourself to some much needed deep relaxation before the big day–you deserve it!
A Private Affair
If you're planning a low-key yet fancy destination wedding soiree, then keep reading. Situated close to the city, this place is right in the middle of a tropical landscape, making it a blissful affair. No braving through traffic to reach your own venue and not attending to unwanted guests are just a few of the bonuses.
Everything is literally within walking distance, and you don't really need to leave this exquisite property to get a hit of the city. Planning a bachelor party? They've got fancy rooms, halls, pools, and packages you can choose from with 24x7 service. Random hunger pangs? From pizzas at Basil to barbecues at Brisa, pool top dining experiences at Thaipas to refreshing drinks poolside—dive straight into these once-in-a-lifetime culinary experiences without thinking twice.
So, We Are Saying…
They are all about the right amount of privacy surrounded with comfort in the form of lush greens and scenic views. We know that Indian weddings are a grand affair–doesn't mean it can't be a private affair. Right from the second you start your wedding prep all the way to the commencement of the rituals, this resort helps in making the entire journey so much easier and worth it by pampering you and taking care of all your needs at every step.
Comments