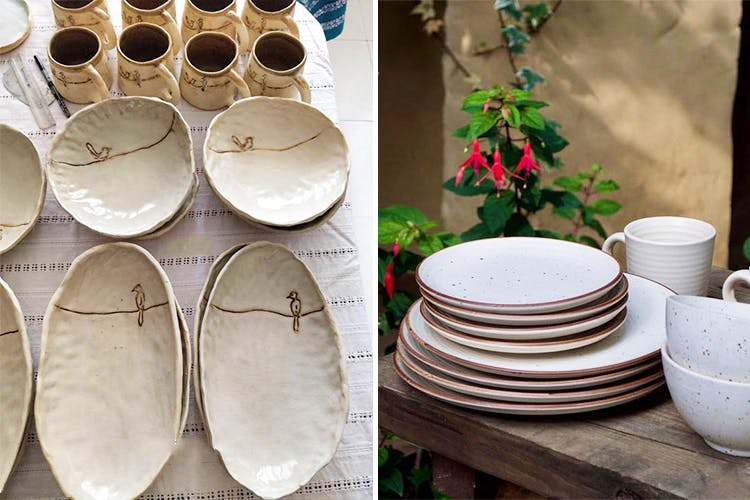 Plates, Mugs, Platters: Look, This Ceramic Crockery Is So Instagrammable!
Shortcut
White Hill Studio is Nandita's attempt at bringing a bit of nature and mountains on to our dinner tables. The ceramic collections all have a unique story behind them and look every bit ethereal (with or without french fries in them).
Great For
Serving bowls, coffee mugs, plates and rare, handmade tableware for homes
What Makes It Awesome
Nandita is the chief storyteller, a wildlife enthusiast and the brain behind this mountain-inspired ceramic tableware brand. While her studio-cum-head-office is in Bareilly, she confesses that Shimla, where she spends most of her time, has been her muse. So far, she has collaborated with potters all over India and its shows when each piece speaks of a different style and technique that's unique to the maker.
The brand's collection Midnight in Mashobra is coming out in October and we're told that it took a year to take shape. The stories and designs all come from Nandita's desk but the briefs are interpreted and executed by individual studio potters. The bigger plan for her is to gather all the talented studio potters across the country and allow them to showcase their creations at White Hill Studio.
Meanwhile, you can place orders through their Instagram or FB page. Or, browse through their collections on Jaypore, Kalpane, Bunosilo, Natty and Style Salad. Besides tableware, they also host pottery workshops in the hills (with the promise of serenity, views and yoga to complete the picture).
What Could Be Better
Since everything is handmade and goes through several processes and people, it's pretty darn expensive (INR 1k for their cuckoo mug). So, treat these ceramics as statement pieces or party ice breakers (we really need to host more high teas to show these off!).
Also, while it all looks smooth as butter and pretty as a picture, they take pride in rough edges for the handmade range, so if you're one for uniformity, look at their factory-made tableware only.
Pro-Tip
They announce sample sales on their social media and that's a good time to stock up.
Comments