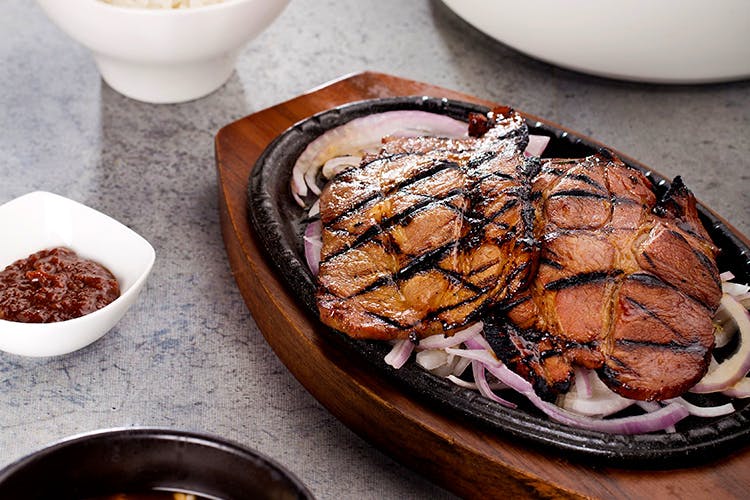 Porky Tales: Our Top 5 Picks Where You Can Pig Out In Gurgaon
Pan-fried, grilled or curried, no matter how you like it- pork is one meat that is bursting with flavour and complements spice and seasoning just magically. Here's our most favourite renditions of this delicious white meat in Gurgaon, and just a point- we aren't talking a fine salami or a delicately spiced pepperoni here- but a full bodied juicy and all-encompassing oink experience.
The Pork Belly Skewers At Kuuraku
Kuuraku has been wowing us, barbecue style for a while now, but the pork skewers here are what win the game for us. Just the right kind of juicy, oozing delicate flavour, these tender bites go well with a side of the potato salad, and of course a lot of alcohol! Get the pork belly with garlic skewer or the one topped with radish for a delightfully pungent kick.
The Pork Bulgalbi At Hahn's Kitchen
If subtle, smoky flavours are your style, you will love the chargrilled Pork Bulgalbi at Hahn's. Sliced pieces of meat marinated in a blend of ginger, Korean dark soy and garlic are savoured wrapped up in lettuce leaves along with a bit of rice and the Ssamjang chilli sauce. A true explosion of flavours in each mouthful!
The Pork Belly Pops At Social
Addictively good, and perfect chakna with your choice of tipple- the porky bites at Social are bite sized beauties- crunchy outside, squishy inside, spiced with curry leaf powder and served up with a sweet spicy apple and chili chutney.
The PB&J Baos At Yum Yum Cha
Known more for their hot pots and dim sums, the baos at Yum Yum Cha are the secret gem on the menu. Tender, fleshy and totally melt in the mouth, the Pork Belly Bao is TDF! Succulent meat stuffed inside soft buns and laced with scallions, hoisin sauce and crunchy peanuts is so our idea of a comfort meal we can eat every day for lunch.
Comments