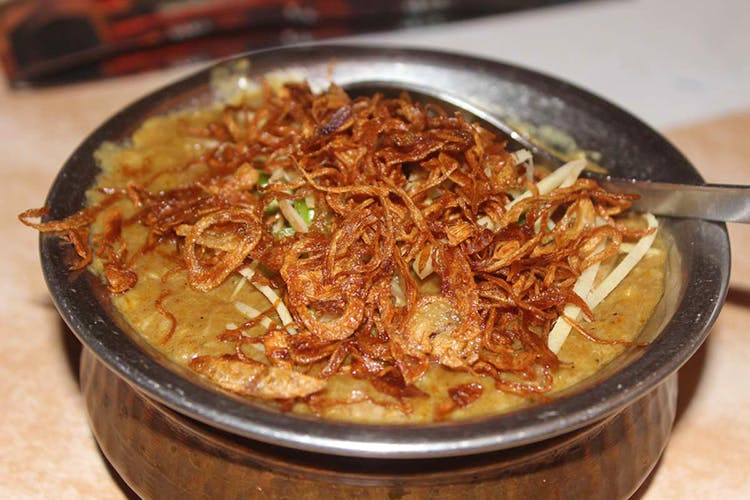 Get Your Fill of Haleem at Purani Dilli Restaurant
Shortcut
Tucked away in the winding lanes of Zakir Nagar, Purani Dilli Restaurant is a modest establishment serving up plates of Mughlai and Indian; the highlights being the haleem, nihari and korma.
Roti Boti
Purani Dilli Restaurant is meant for meat cravings. The haleem here is one of best we've had- slow cooked, the meat is subjected to heat for so long that it falls off the bones and becomes a tender, almost pasty texture. And paired with the sheermal, it makes for a decadent meal.
The chicken korma and nihari too, have gained quite the reputation for themselves and are worth at least a peck, if not more. Another dish we keep hearing about is the Changezi Chicken- next on our bucket list.
If you're still left wanting for more meat, order the keema paratha without any hesitation.
Getting There
…Can be a bit of a task; we'd advise against driving as we know peeps who have come back with scratched cars. Instead, order in. Or take a rick, if you want to see the city in all its glory through the pictures of Old Delhi they've got hanging on the walls, and enjoy their breads fresh off the tandoor.
Given all the heavy meat, Puraani Dilli Restaurant is best visited in good weather when you're not already breaking out in a sweat.
Where: 371, Main Road, Zakir Nagar, Okhla
Nearest Metro Station: Govindpuri
Contact: +91 9891878333, +91 9999816299
Price: INR 600 for two {approx.}
Timings: 12pm – 3.30pm, 6pm – 11.30pm
More Information
Purani Dilli Restaurant
Nearest Metro Station: Jamia Millia Islamia
Comments