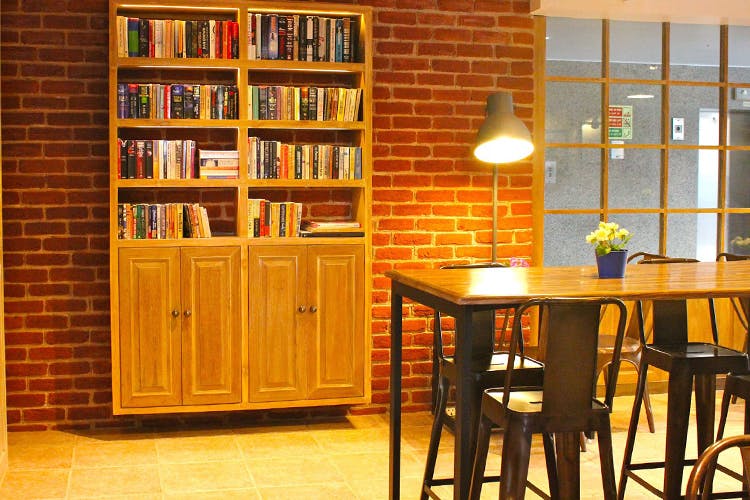 No Distractions & Fresh Coffee: Study For Finals At These Quiet Cafes
We've been through our fair share of the monstrosity that is final exams. Too much to study and too little time? A story we all know too well. Here's a list of cafes around town where you can catch some peace and get your exam prep mode on.
Khoj Canteen
Tucked away from the city's maddening chaos, the canteen at Khoj Studios is the perfect place to catch some quiet and prep for finals. The menu here has home-style meals—think poha and masala omelette. You'll also find Blue Tokai coffee and the lemon cake is heavenly. Read all about it here.
Ivy & Bean
Hanging light cages, a book shelf and the calming, white theme makes Ivy & Bean one of the best spots in the city to dive into your books at. Grab a cup of coffee along with some pancakes and eggs, and you're well on your way to getting those top grades.
Another Fine Day
One of our favourite breakfast and brunch spots, Another Fine Day has cosy corners where you can study in peace. They've even got a bookshelf if you'd like to give the study material a break and dive into the light reading. The bacon & eggs here can be your go-to meal, and once you're done with the exam prep, reward yourself with some white wine sangria (or save it for last exam day celebrations?).
Starbucks, GK
You'll usually find the Starbucks around the corner near your house to be noisy, full of people and less-than-ideal to take a seat and focus on your books, but the one in GK has proved to be quite the opposite. A couple of members from our team vouch for it and have actually studied and worked out of there with their tall cup of java. There's even fast WiFi!
Sparrows at Home Bakery & Cafe
This cosy, Noida coffee house has freshly-baked cookies and cakes, amazing espresso to get you energised, and sandwiches you'd not want to stop munching on. The space is quiet, and you might even catch a fellow student gearing up for the finals on the table next to you.
Cafe StayWoke
Warmly lit interiors, WiFi enabled with stationery and idea boards to jot down notes on, Cafe StayWoke in Gurgaon is the spot to get your reading glasses on. They've got great, gourmet snacks and fresh cappuccino to keep you powering through those study hours.
The Haven International Coffee House
One of prettiest cafes we've ever come across, The Haven Coffee House is a Noida gem that has the freshest homemade meals, national and international coffee blends (coffee here starts at INR 50, btw), and fast WiFi—everything you need to make it the perfect place for you to do your exam prep.
Comments