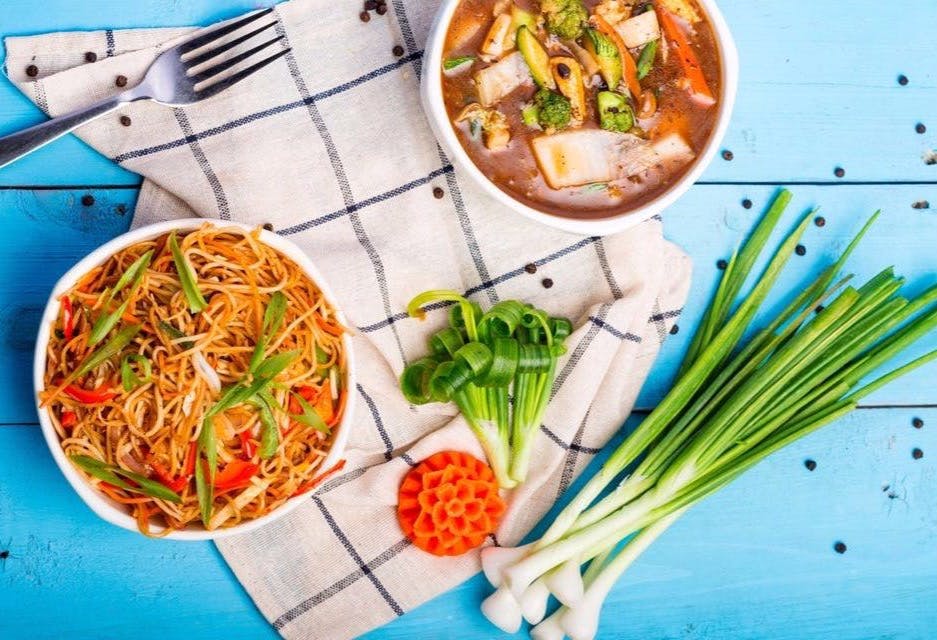 Bacon Wrapped Prawns, Daab Chingri, Mutton Vindaloo & More: This 24×7 Cafe Is A Hidden Gem In Moolchand
Shortcut
A true foodie's paradise, RBG – Park Inn by Radisson in Lajpat Nagar 4 is perfect for those who love familiar and unique dishes set in pleasant and comfortable ambience.
Dish It Up
Walking into RBG – Park Inn by Radisson in Lajpat Nagar 4, we were unsure what to select from their wide variety and range of interesting dishes. With everything from hot soups, scrumptious starters and salads, mouthwatering kebab dishes and Mughlai preparations, platters, sandwiches and burgers – we were truly spoiled for choice, and to be honest, totally prepared to munch away. Luckily for us, Chef Sushmit shared his personal recommendations from the curated menu, so we focused on drooling over the food and satiating our appetites.
Get On A Savoury Ride
So we know we're getting you slightly hungry – and the next question on your mind is "what should I order?" We started with the orange and fennel salad, that was a perfect balance of freshness and a rich zingy flavour, which cleared up our palate for the meat lover's paradise that was ahead of us! The appetizers included bacon wrapped prawns and Calcutta lemon garlic chicken – both were tender, juicy and succulent , with a depth of flavour and spices that left us grinning ear to ear.
Level Up With Entrees
With happier stomachs and big, hopeful eyes, we embarked on the next course with enthusiasm, and trust us, it was a royal feast! Starting off with Khao Suey, an authentic Burmese preparation with noodles and curried soup, they brought on a host of traditional ingredients so we could customise it to our taste. Mildly spiced, slurp on this bowlful of goodness and indulge yourself with their generous portion size. We shifted back to specialities from across India, including daab chingri, a delicious Bengali shrimp curry that won our hearts on both taste and presentation and mutton vindaloo, a traditional Goan lamb delicacy that we teamed with steamed rice. We ascended to heaven with one flavourful bite of the meat dishes that made a winning combination we couldn't get enough of. While the vindaloo packed in a spicy punch, the daab chingri was an exquisite blend of sensational flavours, ensconced in a tender coconut.
Mousse Have Desserts
Despite the sinful meal that got us ready for a hearty afternoon of napping, we couldn't resist ending the meal with decadent desserts and a cappuccino. Try their chocolate mousse for some good old-fashioned sweetness and if you're a fruit lover, don't miss the poached pears paired with ice-cream! As always, we couldn't resist a frothy cappuccino, and they won our hearts by sprinkling cinnamon powder on top.
So, We're Saying..
If you've gotten serious hunger pangs reading this, head over to RBG by Park Inn in Lajpat Nagar 4 right now for a drool-worthy meal. Open 24 hours, with an eclectic set of dishes, this place is ideal for anything from a family lunch, first date, brunch with friends to midnight hunger pangs! With beautiful ambience and cozy interiors, you'll be a happy foodie from your first visit.
Check out RBG – Park Inn by Radisson's website here.
More Information
RBG - Park Inn By Radisson
Wi-Fi Available

Nearest Metro Station: MOOLCHAND
Comments