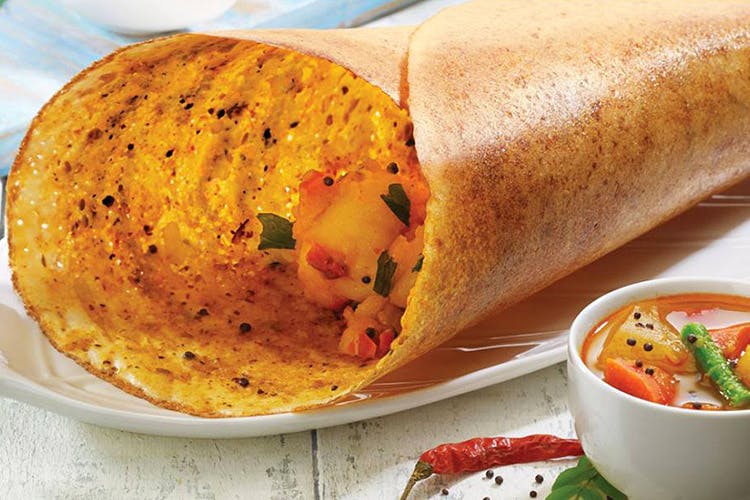 6 Restaurants That Never Disappoint When You Seek A Hot, Crispy Dosa
In the mood for some good ol south Indian? These five restaurants in Delhi have been our saviours for years.
Carnatic Cafe
Carnatic Cafe is a very affordable place with a vast variety of dosas. Try their Ghee Roast Dosa – this doesn't have a filling but just dipping it in sambar and coconut chutney will make you happy.
Sagar Ratna
We've all heard of the 80's restaurant Sagar Ratna but have you tried their Makhni Paneer Masala Dosa? The combination may sound weird but it's definitely worth a try. The crispy dosa stuffed with buttery paneer is out of this world.
Swagath
Word's don't do justice to the spicy potato-filled Mysore Masala Dosa. While you're here, you may also want to indulge in their seafood.
Shree Rathnam
The Coconut Rava Masala Dosa at Shree Rathnam is simply an intriguing experience for your taste buds. The dosa is nice and crisp with a potato and coconut filling.
Naivedyam
Naivedyam, as we all know has a variety of dosas to choose from. The Erulli and Tharakari dosas are a must try, you don't get them everywhere.
Saravana Bhavan
One of the most iconic spots for South Indian food in Delhi, Saravana Bhavan always has a line during lunch time, speaking volumes of their food. You can't really go wrong but we recommend sticking to their set thalis so you can try a little bit of everything or their Ghee Roast Mysore Masala Dosa.