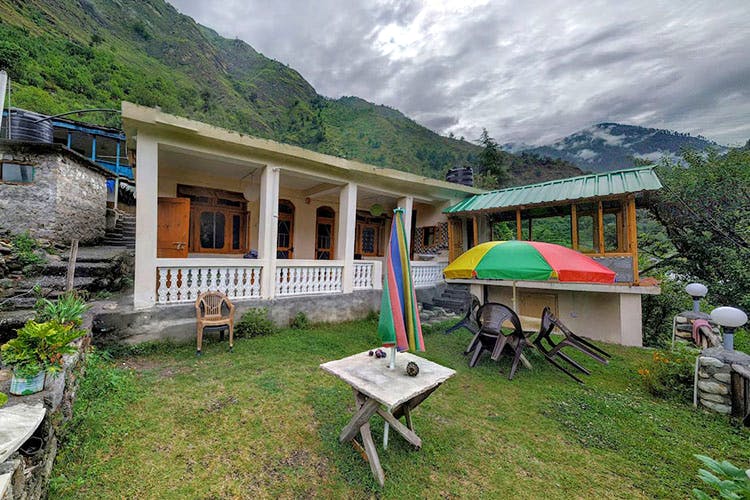 Ditch Manali: Take Your Gang To This Budget Riverside Homestay Instead
Shortcut
Quiet, picturesque and right in the middle of Tirthan Valley, we found a small homestay that's great for big groups holidaying on a budget. The river's in sight, and you guys can choose one of the two rooms in the house or keep it real close to nature in a tent the staff can pitch for you for INR 899 only.
What Makes It Awesome
We're digging this unpretentious place in Gushaini, which is cut off from commercialisation. It's got a dining hall—an odd protrusion from the house which lets us eat all our meals facing the mountains, wherever we look. This is, of course, if you need a change from the lawn, where you're probably going to laze around. The staff's happy to cook for you for an extra charge, or you can always have someone from the group taking turns. On the other hand, if you're an active camper, you can cook your own meals, too.
Need another compelling reason to book this place? Let it be the proximity to the river, and the sight of the mountains. Really.
What Could Be Better
They have simple and limited options when it comes to food. Also, to reach the lodging, you'll have to cross the river with a pulley (don't worry, the host will help you out).
Pro-Tip
Fee free to ask the host (also a local, certified mountain climber) to arrange treks around the area. He'll have anecdotes and local intel that'll only make the long walks more fun. Not to mention, of course, that no one knows perfect, little hideouts better than those who've lived in the area all their life. If we were you, we'd pester the host for ghost stories, and enjoy them with Maggi (or pakoras).