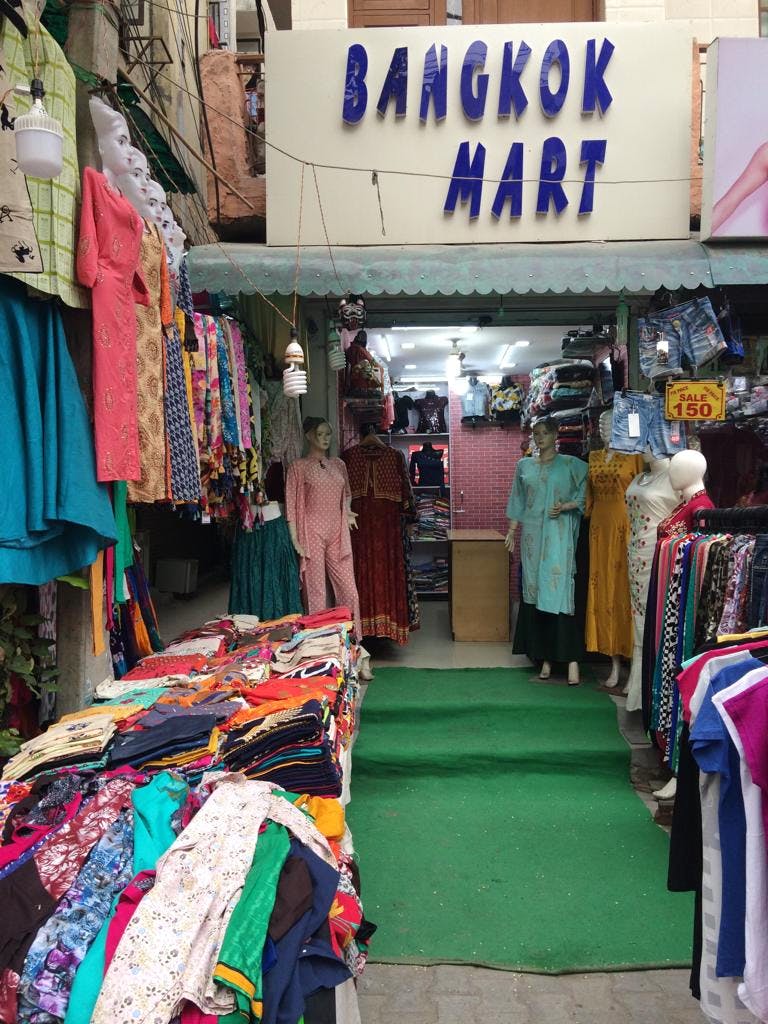 Shop For Pretty Dupattas, Kurtas, Bags & More At This Rohini Market
If you happen to be visiting that super chatty maasi, or uber cool cousin of yours in Rohini then, make good use of your time there and head out to the Rohini Sector 16 and 17 Market. You can find a lot of pretty kurtas, dupattas, scarves, bags and footwear here. Which is why, we're giving you this list of the best places to shop at in this market.
Do Bhai Kurti Wale
Firstly, this little shop is run by the sweetest, most enthusiastic uncle-ji. Secondly, Do Bhai Kurte Waale has super minimal, yet trendy kurtas in every colour and style. From pink and white striped, collared kurtas, to minimal grey and white kurtas, they've got everything! These kurtas start at around INR 300.
It's especially a great place for college kids.
Bangkok Mart
Bangkok Mart has everything from kurtas and scarves to ethnic wear, but we personally recommend this shop if you're looking to match a dupatta with a kurta you bought separately. They've got an unending collection of the prettiest dupattas, and scarves ever! From Bandhani and delicate embroidered ones, to phulkari, this shop's a paradise (Pssst, we found a pretty sheer dupatta here for just INR 300 and it was available online for around 900 bucks!).
Rajeev Purse
It's not very easy to spot this shop, so you might have to ask around a little to get here. It's a tiny store, and occasionally, you can find good sling bags here that are sturdy, and classy (think nice, tan, black bags and slings worth the price). The bags here start at INR 500.
Mod Wears
Men, this one's for you. This shop has formal suits, blazers, sherwanis and Nehru jackets fit for all kinds of occasions. We were drawn to this shop because it had the quirkiest hot pink Nehru jacket displayed outside their store. Their prices start at around INR 2500.
Shree Durga Emporium
Shree Durga Emporium is one of the most well known ethnic wear shops in this entire market. They've got nice lehengas, saris and suits for occasions (bright, vibrant lehengas, endless shelves of saris, and suits). Their price range starts at INR 3000 (for the fancier garments).
Juneja Matching
Every time, I've had to get a suit or kurta stitched, and needed matching gota pattis, lining fabrics, or even the fabric itself, I make a trip to this store with my mum. Although, they've got nice fabrics for any kind of clothing, we recommend you go here for gottas, borders and lining fabric. Their prices start at INR 10 per meter for gotta and border fabric.
Vridhi
This shop is where you need to go if you're looking for heavy lehengas, saris and occasion-based ethnic wear. They've got nice bright lehengas, trendy saris and ethnic wear apparel. Price range starts at about INR 2500.
Comments