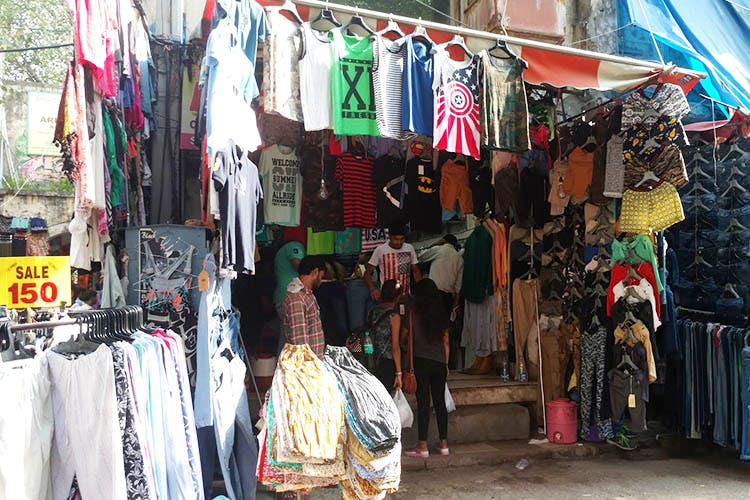 Sarojini Nagar Is For Men Too! Here's Where To Score Cheap Boxers, Tees & More
Sarojini Nagar is an evergreen market for those looking to indulge in shopping without shelling out their entire month's salary. Unlike the popular opinion, there's quite a few good finds here for men too (we're not only talking about the "Saksy Munda" T-shirts). Here are some stalls and shops to get you started.

Shop 170
This is in the famous export lane towards the end (near the tunnel-like shops). You'll get casual T-shirts here starting at INR 300 (or lower, depending on your bargaining skills) and shorts for INR 450. Go here for everyday wear. And by that we mean for Batman and Superman tees.
There's another shop, a few shops down which keeps similar clothes.
Galli Next To ICICI Bank
Just in case you're looking for caps, head straight to the galli next to ICICI bank. You'll soon spot a pile of these, some funny, some basic and some downright ridiculous.
We personally like the "You Suck" one but you could also go for one which says "Boss".
Shop 174
You have to peep between clothes hanging outside to spot a tiny entrance to this basement shop. They have filmy T-shirts starting at INR 250, formal shirts in all the colours of the rainbow (along with the more desirable neutrals) starting at around INR 350. They're also one of the few shops which keep trousers for men.

Dressed To Eternity
One of the more pakka stores in Sarojini Nagar, Dressed To Eternity occupies two floors and is filled with everything from Simpsons boxers (starting at INR 295) to Superman and Minion pyjamas to first copies of football jerseys (a set comes for INR 995). They also have a super interesting range of lighters including Zippos starting at INR 295.

Shopping Complex
There's a cluster of shops at the beginning of the lane which perhaps keep the best stock of mens' clothes. Head here for surplus Abercrombie & Fitch, Jack & Jones, Gap, Hilfiger and more. You have to be patient as sometimes what you're looking for is inside one of their giant boris. You'll get everything from linen trousers, formal trousers, formal shirts and T-shirts here.
Pro-Tip: Vaishno Collections and a shop called Export Surplus Shirts are your best bets within this mini complex.

Anvit Garments
Anvit Garments is in the same lane as Kwic Bitte and IMHO, the quality of their clothes is a little better than the rest. They're good for track pants and shorts (when we visited, they had some funky pairs with flamingoes on them). The prices here start at INR 250.

Hasho
Hasho is located towards the end of the market (near the juice and chaat guys).They've got a pretty decent collection of casual shirts, pants and… towels. This is a little bit more expensive as compared to the rest of the market. You'll have to shell out some INR 450 for a shirt.

Stall Next To The Mandir
This may not look like much but once you start sifting through the piles, you don't know what you'll unearth. Checked and striped collared shirts for just INR 350? Yes, please.

Sunglasses Sunglasses Everywhere
You don't have to go searching for these, you'll find a stall every 10 metres. Choose from a range of aviators, reflectors and Wayfarers starting as low as INR 100. We can't vouch for the quality but we've picked up a few in the past and they've lasted at least a year.
Pro-Tip: We know how tiring shopping can get. In case you want to take a quick break and grab a bite to eat, here's where to go.
Comments