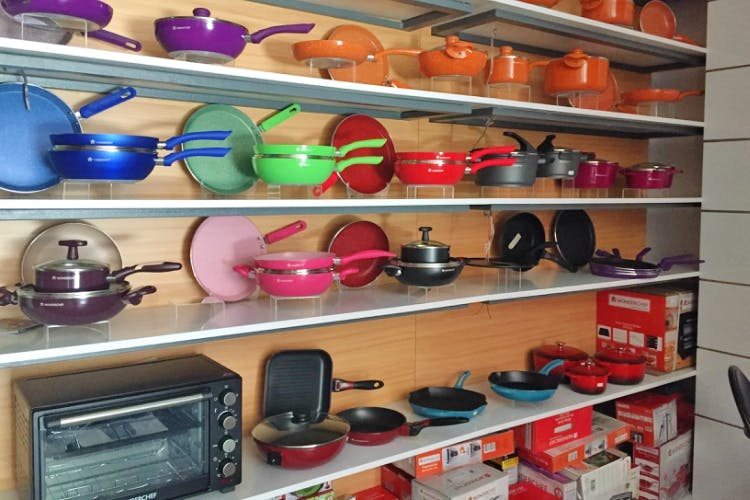 Score Pots, Pans & Everything Else Your Kitchen Needs At This Wonder Store
Shortcut
Even though it's a blink-and-miss-it little store, Wonder Chef is surprisingly well-stocked. At Wonder Chef, Le Creuset meets Kitchenaid and this store has every possible tool and appliance a kitchen may need.
Pots, Pans & Coffee Mugs Too
The cookware range at Wonder Chef is super spiffy – the most attractive it is that it's available in amazing colours and, let's be honest, who wouldn't want a flaming red cast iron pan? They have regular non-stick pans too and if you're old-school, all the sizes come in black.
In fact, you can choose by colour and make an entire set of casseroles, tawas, pressure cookers, grill pans and sauce pans. Add to the set with ceramics, tea cups, coffee mugs, soup mugs and even water bottles for school and gym!
Bake Me Good
The kitchen tool selection here doesn't end at whisks and spatulas, they have a range dedicated only to pizza! In fact, there's something for everyone; bakers will love the silicon mats, mitts and the cake decorating tools.
Choose from peelers, knifes, spiralizers, choppers and shearing scissors and add a set of baking dishes and chocolate moulds to the mix so you never have to eat store bought dessert again.
Whip Up A Meal
If you need, want or love electrical appliances, this is the place for international quality products at very friendly prices. Start your Wonder Chef journey with a bread maker and pizza maker which are the real specials, besides that they have the usual mixer/grinders, choppers, juicers, air fryers, coffee makers and toasters. They also have Nutri-Blend bullets which are ideal for juices, salads and masalas too
So, We're Saying...
Whether you are sprucing up your kitchen or setting up a new one, a trip to the Wonder Chef store is definitely a good idea!
More Information
Wonder Chef
Nearest Metro Station: IFFCO CHOWK
Comments