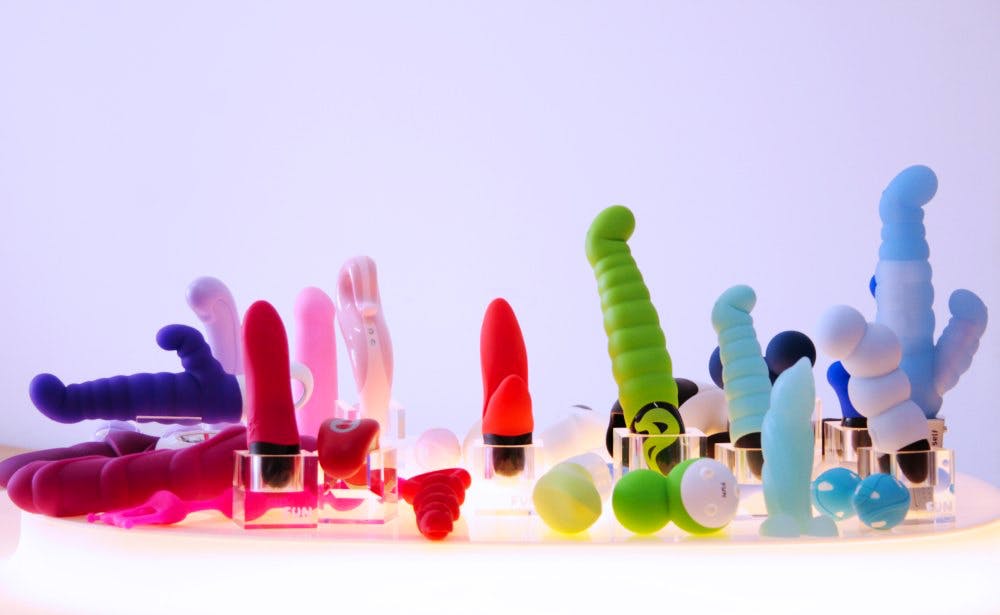 Sex In The City: Where To Score The Fun Stuff
Want to heat things up but don't know how to add that extra bit of sugar and spice? Let us help you with this list of where to score erotic toys and accessories online.

Just in case you prefer buying them in person (and on the DL), read about our experience of finding them in Palika Bazaar here.
Disclaimer: If you're worried about the law, know that owning them isn't a criminal offence. We highly recommend going to the 'In The News' section of IMbesharam.Com, where they've explained in detail if these toys are legal in India or not.

IMbesharam.Com
Sunny Leone is the brand ambassador of this adult lifestyle webstore and we assure you, this site is doing everything just right. They have sections for those indulging in toys for the first time, Fifty Shades of Grey-themed accessories and so much more. For those to-be-weds and newly-married couples, IMbesharam.com does aromatic candles, bath gels and other aphrodisiac edibles too. They also supply for adult, bachelorette, bachelor and divorce parties. Sexual wellness is something they care greatly about and have a blog on the same too.
Price: INR 864 onwards
Adult Vibes
An easy to navigate website, Adult Vibes has sections for men, women, couples as well as specifications for the kind of sex-play you're interested in. The Bondage Sex section has entire kits of restraint items and the lube section accommodates everything from desensitisers to arousal creams.
PS: They have a men's lingerie section for those looking to surprise. So, use the chat facility to get some handy advice.
Price: INR 1,000 onwards.

That's Personal
With an under INR 499 category, we can't get enough of the thermal and Ayurvedic sensual products. Oftentimes, we come across shoddily done up websites, but this is not one of them. With fun edible and tactile stuff like chocolate body paint, warming gels and adult board games, they keep a very vast collection of Indian and imported products. They do COD and are a 100% discreet.
Price: INR 100 onwards

Fashion Love Toys
Well-known amongst (ahem) enthusiasts, Fashion Love Toys is super discreet and has adult toys that can drive your imagination wild. They've got both female and male toys, enhancers, vibrators, stimulators and more.
PS: Their range of bullet vibrators and fleshlights have us totally intrigued.
Price: INR 430 onwards

Masala Toys
Founded in 2009, Masala Toys has a pretty large variety of all things you could ever dream of. From vibrators and dildos, to rings, handcuffs and lingerie, they source all their products from the US, Hong Kong, Japan, Korea and China. They also have a bunch of discreet products (the vibrator that's moonlighting as necklace for example) which you can easily carry anywhere.
Price: Starting at INR 3,000

Kaamastra
Massage oils, bondage kits, edible underwear, scented candles, costumes for role-playing, lubricants, candy lingerie (for both men and women) and naughty board games, they have it all. This is your one-stop-shop for that one perfect night with tons of foreplay (the sex position dice can be a great way to get rollin').
Price: Merch starts at INR 149
Condombazaar
As the name suggests, this one's majorly for your rubber needs (the sheer variety is overwhelming. We came across glow in the dark ones, and a bunch of crazy flavours like coffee and blueberry) but they also sell some "fun stuff"; think massagers (there's a super cute, discreet massager which looks just like a lipstick), ticklers and floggers.
Price: Starting at INR 249

Shycart
More of a wellness store, this is also your go-to place for lubricants in exciting flavours (pina colada, bubblegum, green apple) and condoms of all kinds.
Price: Starting at INR 100
Comments