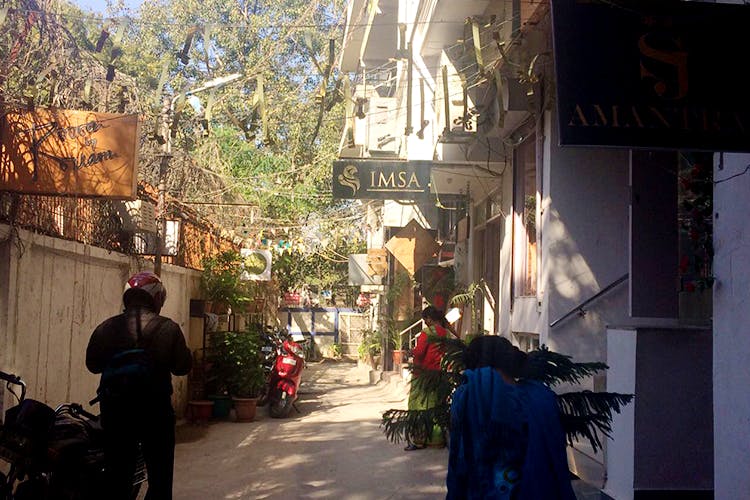 Wedding Shopping In Shahpur Jat? Here's What You Can Buy For Under INR 10K
On a windy afternoon, we set out to Shahpur Jat to find some awesome outfits perfect for weddings. We had a budget of INR 10,000 and here's all that we found.
Mubaarak Fashions
Our first stop was a shop in Dada Jungi Lane called Mubaarak Fashions. It's perfect if you are looking to buy intricately stitched Pakistani suits, anarkalis. The ones we liked were priced between a range of INR 8,000 to INR 10,500.
AHS Crafts
Looking for affordable clutches to match your favourite anarkali? Head to AHS Crafts and see their fabulous clutch collection. They have simple, plain ones and ones with some intricate gold sequin work done on black, blue, and silver backgrounds. The collection starts from INR 600 and goes up to INR 2,000.
You can also visit their website just in case you wish to have an idea about their collection before you head to the store.
Sulakshana Jasra
Her collection is a mix of Indian art with contemporary styles and vibrant colours. What we loved the most were the Nehru jackets for men (ideal for a wedding cocktail) in beautifully woven pastel shades. They are priced between INR 4,500 to INR 8,000.
Also, the designer does customisations too.
Adaa By Sunanda Varma
Adaa has some gorgeous juttis you can pair with your anarkalis, saris or anything really. They seemed very comfortable (something you can dance away in at the baraat) and trendy at the same time. The price starts at INR 2,000.
Crystal Designer Ethnic Wear
If you are someone who is really fond of sequins, you should definitely head to this store. They have really pretty sequinned anarakalis starting at INR 5,000, and going up to INR 10,000. Their collection is perfect if you want something for sangeet evenings or something for your friends' wedding.
Comments