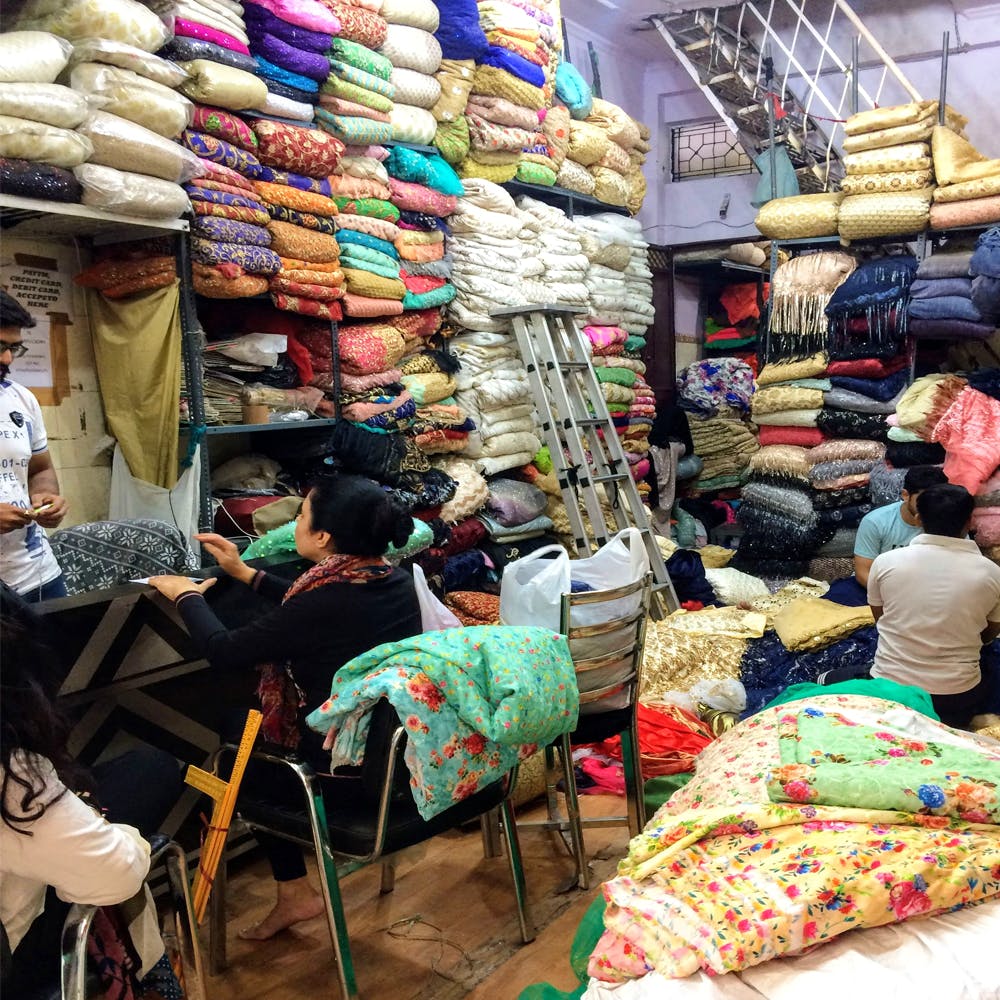 Starting At INR 99: These 14 Stores In Shanti Mohalla Have Fabrics To Dye For
I remember seeing my college seniors go on fabric hunts and sourcing trips to Shanti Mohalla. It was always very exciting to see what they came back with and how they designed their collections with this haul.
Shanti Mohalla, is one of the best fabric markets located in Delhi. A lot of designers and boutique labels source their fabrics from this very famous market. You can find everything from rainbow coloured chiffon here, to t-shirt material/knitwear fabric.
However, it is advisable to go here during the day because the area does have a bit of a notorious reputation. It gets quite crowded, the streets are narrow, and almost every vehicle can and will try to barge in to get through. That said, the stuff you'll find here is totally worth the trip.
Arihant Enterprises (Denim fabric shop)
This is store only stocks denim fabrics. They have giant rolls of all kinds of denims stocked up in their office. Not only do Arihant Enterprises sell their fabric wholesale, they also go ahead and do retail business. Their fabrics start at INR 250.
Indu Fashion
Indu Fashion is where you get a lot of sequined fabrics, as well as pretty digitally printed fabrics (with a lot of floral prints). You can find fabrics at this shop for INR 200 and above.
R.S Cotton Fabrics LLP
R.S Cotton Fabrics shop was one of the most impressive fabric shops we came across in the entire market. You can find literally every kind of fabric here. But mostly, what we loved is that they had delicate crepe silks here. Along with such fabrics, they have a lot of embroidered and surface embellished fabrics all for about INR 300 above.
Rakesh Chand Naveen Kumar Cloth Merchant
This shop is almost unnoticeable. It's a tiny basement shop with a pink shutter above it. What we liked here is that they have fabrics that have a very vintage look and feel to them (something our mothers must've worn and had photos of). We're talking pretty chiffons that can be made into an entire sari or pleated and metallic fabrics that those trendy palazzos are being made of nowadays. You can find fabrics here for INR 300 and above.
Maharani Fabrics
Maharani Fabrics (as the name suggests) has textiles and fabrics with regal vibes. Think a lot of silk fabrics with Gota-patti, and Zari work. But apart from these fabrics, they have a lot of net and organza fabrics that the shop owner says are frequently bought by many boutique owners. Most of their fabrics, including the Zari work ones are priced at INR 100 and above.
Ahemed Sons
Ahemed Sons is where you go to shop for pretty Chikankari. Not only do they have fabrics but they also sell Chikankari palazzo pants that you can easily pair with any kurta of your choice! You can find fabrics here for about INR 250 above.
Tirupati - A House Of Fabrics
Tirupati is another fabric shop in the market that sells a lot of sequinned fabrics or fabrics that are quite fancy and can be use to create party wear. Although, it is similar to other shops that sell sequinned fabrics, we found this to be the only shop that was selling a fabric that was covered in sequins, following a rainbow pattern of colours. Tirupati sells fabrics starting at INR 100 and above.
Foreign Fashion
Foreign Fashion is where you should go if you're looking to shop for fabrics to get pyjamas and cool dresses made. They primarily sell digitally printed fabrics with floral prints and stripes. You can find fabrics here for INR 80 and above.
Robit Enterprises
Robit Enterprises is one of the bigger showrooms in this market. It also, has a lot of digitally printed fabrics. If you're someone who likes getting clothes stitched rather than buying ready made ones, you'll love this shop. You can find fabrics with superhero logo prints, floral prints, stripes, basically a lot of vibrant bold prints here.
They have another separate section for embellished fabrics as well, but we suggest you head here if you need to find printed fabrics. Robit Enterprises sells fabrics for INR 55 and above.
Mahavir Textiles
What caught my eye while walking past Mahavir Textiles is that it had this white fabric covered with sequins the size of ten rupee coins; that too, transparent and iridescent sequins. When I asked them about this fabric, they told us that it was a dyeable fabric and that just heightened my excitement. I mean what can you not make with this wonder fabric, guys? This sequined piece was for about INR 350 per meter. Apart from this, Mahavir Textiles sells all kinds of fabrics for INR 100 and above.
Jainco Enterprises
Jainco Enterprises mainly sells meters and meters of crochet fabrics in pretty off-whites and magentas. You can also find pretty crochet laces here- ones that are used to adorn hems on suits and palazzos. Find fabrics here for INR 250 and above.
A.B.S Hosiery Fabric
A.B.S Hosiery Fabric was personally, my favourite shop in the entire market; my love for knitwear and hosiery (the material most t-shirts are made out of) is well known by my closest friends. It's one of the most comfortable fabrics to wear. Knitwear/hosiery is stretchy, breezy and has a good fitting. At this shop you can get tons and tons of hosiery fabric with all kinds of prints, think navy blue fabrics with pretty white specs, ribbed knitwear in multiple colours and melange weave variants, too. Get all this for about INR 300 above.
Maryada Textiles
Maryada Textiles mainly has a lot of pleated fabrics in a lot of variants (basically the fabrics that those pleated palazzos are made out of now days). Imagine thin pleats on a dusty rose coloured fabric or on a rainbow hued chiffon. Literally, it's the stuff of your dreams. You can find fabrics prices starting from INR 350, here.
Mohit Cloth House
This shop is ideal to go to if you're looking for cotton, or poplin with prints on them. They They have a collection of prints like stripes and checks on poplin that are ideal to get cute kurtas made. Mohit Cloth House sells their fabrics for INR 200 above.
Ask Harshita a question