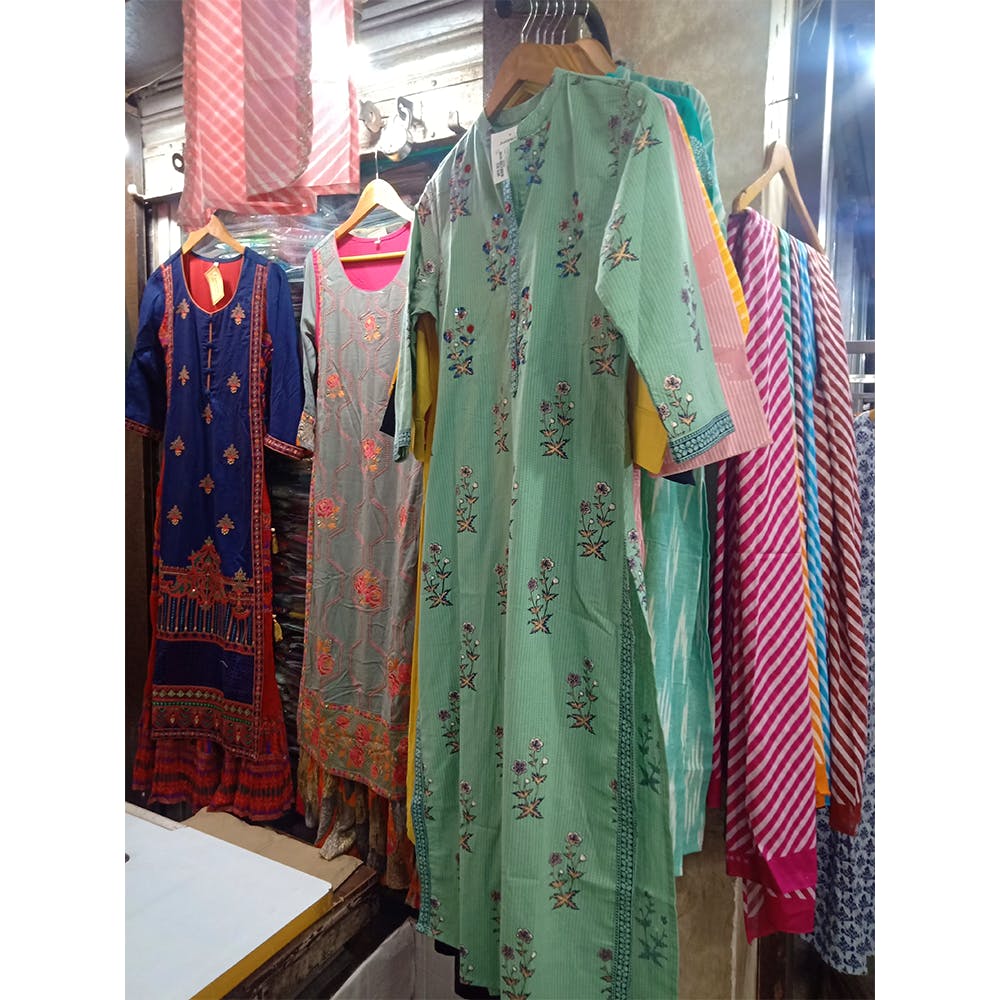 Shopping In Vyapar Kendra? Here's A Market Guide You Should Bookmark
Let's just say that if you had to build your wardrobe from scratch, Vyapar Kendra in Gurgaon is where you should definitely stop by. Being one of the oldest markets in Gurgaon, Vyapar Kendra has been the go-to hub for everything affordable! From clothes, food and accessories to kitchenware, home essentials and affordable services, Vyapar Kendra has it all. It's a big market and you're bound to get lost at least once here (don't worry, it's fun).
However, our list of shopping places in Vyapar Kendra will have you sorted!
Bulbul
Bulbul is a small store stocked with fabric material that you can transform into beautiful suit sets or even saris. They make everything on order, so you're free to make your own customisations and choose your own material, colour and design. The store does not keep readymade or semi-stitched suit pieces on sale. Also, you won't find a lot of men's apparel options here.
Suraj Matching Centre
Suraj Matching Centre is loaded with yards of fabric in different material, designs and colours. If they don't have a colour you want, you can ask them to get it dyed for you. The store also has an awesome range of wide, intricate borders and pretty laces that you can use for your sari's borders. My personal favourite was their collection of fancy buttons. Other than that, you will also find dupattas, embroidered patches (but no custom designs) and ribbons (that could also be used for school projects).
Instyle 29
If you want to buy pretty dresses and suits, don't forget to drop by Instyle 29. Their collection is very different from what you'll find in the entire market. They have really cool tops for everyday wear (in solid colours, floral design and block prints) and lowers (like a palazzo or a sharara) for women. They have good-quality and well-fitting dresses which, again, you can use for dailywear. However, the store does not stock accessories and menswear.
Chunree Studio
With a tailor right outside the store, the Chunree Studio is not difficult to find. The studio does an amazing job at creating suit pieces and blouses. If you can't decide how to put your whole outfit together, then you should give this studio a shot. They also have really vibrant, blingy laces and tassels, which I feel can be cute add-ons to you suits, dresses or blouses.
Shreeji Fashion
If you just want to go shopping for some easy casual wear, you should definitely drop by the Shreeji Fashion store. They have really comfortable and affordable apparel for both men and women. Tee shirts, shirts, pants and shorts, are in abundance here, so take your time to browse through the store's collection. They also have really cute nightwear.

Tiwari Bhaiya Cosmetics
If you're looking for accessories that are vibrant, yet subtle enough to be worn on a daily basis, check out Tiwari Bhaiya Cosmetics. They have a range of earrings, studs, danglers, necklaces and simple rings. The store has a nice collection of golden chains and glitter nail paint. Outside the store, you can also find a few kurta and nightwear options to choose from.

Nency Fashions
If you're unable to find the right fabric at other shops in the market, do try Nency Fashions. Their range of fabric pieces are on the higher end of the quality chart and a tad price-y too. You can score fancy and intricate fabric here and transform it into something really nice (yes, go crazy with your imagination)!

Elini
For readymade, semi-formal garments, visit Elini. Not only do you get affordable stuff, but you're also likely to score a massive discount when you shop here. They have kurtis in soothing pastel shades and indigo designs. Although the stock isn't massive, it's filtered and refined, so you'll definitely save some time.

Afreen Mix & Match Boutique
For customisations and alterations, Afreen Match & Boutique is worth a visit. They have a really diverse range of fabrics and dupattas that you can play around with to make your outfits pop.

Jaiswal Mix & Match
A little difficult to spot, the Jaiswal Mix & Match shop is an abode for ethnic wear. The store has a massive range of readymade, short and knee-length kurtas that you can choose from. I suggest that you try their clothes on before buying them to be sure of the fitting and size. Also, they don't deal in fabric pieces or customisation of outfits.
Khadi Cottage Emporium
Although Khadi is famous for their fragrant and organic shampoos and soaps, they also have an awesome range of apparel. Suitable for both men and women, the store has a really good range of short and long kurtas, lowers and kurta-pajama sets. You can also check out the collection at the other Khadi branch in Arcadia market, Gurgaon.

Pooja Footwear
The Pooja Footwear store in Vyapar Kendra can fetch you some really good shoes for daily wear or even office wear. They offer slip-ons and strappy sandals in basic colours for women, and casual and sports shoes for men. They also have cute footwear options for kids.

Atul Jeans
Atul Jeans is one of the best shops in Vyapar Kendra for men's apparel. Their collection consists largely of formal shirts, coats, and jackets. At the store, you'll also find jeans for men, and leggings for women. They also keep fabrics (solid colours, stripes and printed ones) for menswear.

The Velvet Box
The Velvet Box is one of the most famous shops in Vyapar Kendra for artificial jewellery. They have everything from small earrings to blingy, extravagant ones. The store also has really beautiful artificial diamond necklaces and even offers full sets (which, thankfully, only look heavy). Their jewellery is perfect for gifting and to pair with heavy lehengas and traditional ethnic wear.

Comments