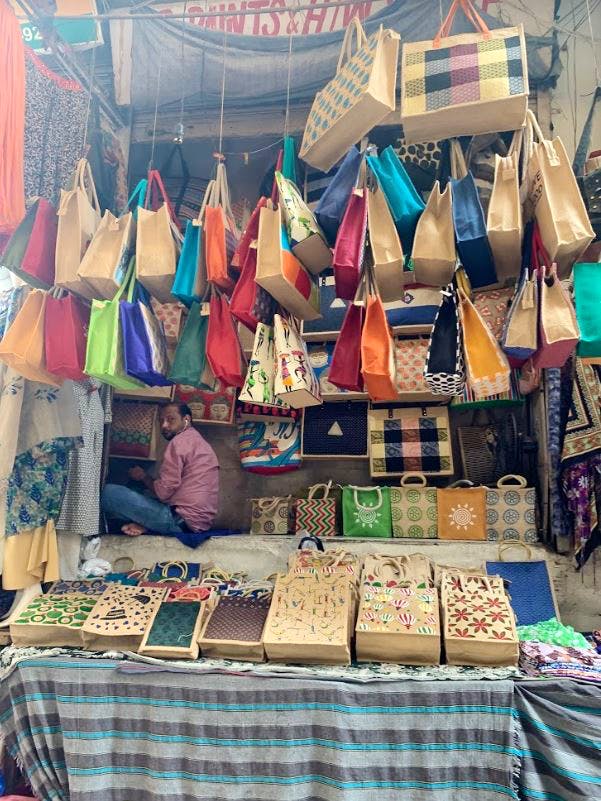 East Delhi Folks, Shop At Madhu Vihar Market For Budget Apparel & Accessories
If you find yourself in East Delhi and are looking to shop for quality apparel and footwear on a budget then, we suggest that you head to Madhu Vihar Market and shop your heart out (closed on Mondays BTW). Also, let us tell you, they've got really cool home decor shops too so, a quick investment wouldn't hurt, right?
Just FYI, Preet Vihar, located on the blue line is the closest metro station. From there, you could take an auto to the market. So, what are you waiting for?
Fashion Heart
If you are looking for menswear that is affordable and also offers quality, Fashion Heart is the place that you should definitely head to. You'll find printed t-shirts, basic ones, track pants, denims, and just in case, they don't have your size available, they'll also quite happily order it for you.
The price for basic t-shirts starts at INR 300, denims at INR 700.
Rampage
Are you looking for dresses and kurtis for a certain occasion? Well, then Rampage will help you find the right outfit. They have a wide variety of floor-length dresses, lightly-embroidered kurtis that are perfect for a small gathering.
The price of the floor-length dresses starts at INR 1,200.
Queen's Castle
This store in Madhu Vihar Market is perfect for women shoppers and also if you are looking to shop for kids. We absolutely loved the collection of long skirts for women (some even had Rajasthani prints on them) while for kids, we really liked the tulle frocks they had.
The price for skirts starts at INR 350, while kidswear starts at INR 250.
Jain Son Dresses
Long dresses, skirts, leggings, palazzos, kurtis - you name it and they have it. What we really liked at this store was a long dress with a bit of chikankari work and it was available in different colours.
The price of the dresses starts at INR 450.
Charu Shoes
Wondering if you'll be able to score good shoes in the market to go well with your outfit? To this, the answer is yes. Charu Shoes has a wide collection of footwear available for both men and women. For women, you'll find flats, heels (block, stilettos), while for men, you'll find casual shoes and even formal pairs.
The price of footwear for women and men starts at INR 500.
Alisha Creation
Your search will end here when it comes to trendy western-wear for women. They have jumpsuits, tops, dresses, skirts, and a lot more. Of course, the sales staff at the shop will be more than happy to help you out just in case you need any styling tips.
Tops start at INR 350, while dresses start at INR 400.
Vanya Creations
If you are looking for gorgeous ethnic wear, then you should definitely head to Vanya Creations. From flowy anarkalis to simple A-line silhouettes, they have it all and in good quality. Also, they even have a good collection of scarves, so do not forget to check those out when you are there.
Scarves start at INR 100, anarkalis at INR 1,500.
Ceramic World
Ceramic World is the perfect store to head to when you are looking for a break from shopping for apparel and footwear. As the name suggests, they have a lot to offer in ceramic home decor that will be perfect if you wish to give your house a makeover.
The price range varies. A small ceramic vase is priced at INR 100.
Rupali
Rupali has an extensive range of kurtis, palazzo, and leggings available. They mostly have clothes that you could wear on an everyday basis. They do not have embroidered clothes and it's all mostly printed. Drop by if your daily-wear wardrobe needs a detox.
The kurtis start at INR 350.
Lucknow Chikan Emporium
If you like chikankari work then, you cannot miss this place. They have so many options in kurtis (you can choose between long or short) and the best part is that they have every possible colour available (we had asked for a purple and a baby pink one).
The kurtis start at INR 1,000.
Comments