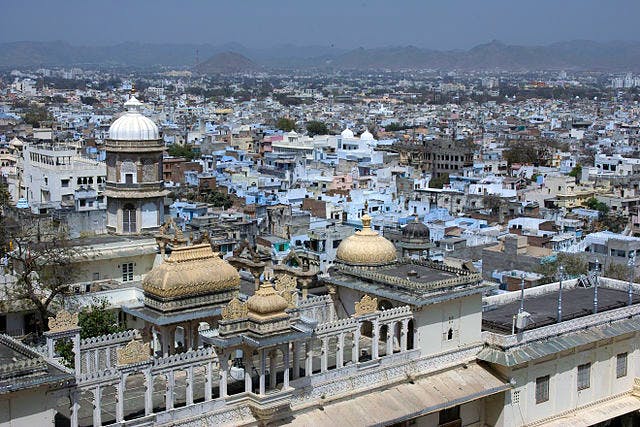 Planning A Trip To Udaipur? Don't Forget To Shop At These Markets
The vibrant Rajasthan city has a lot to offer – history reeking within palaces, local food that could make peace between enemies, and the many streets to shop from. Today, we're going to visit these very lanes, so that you can pick up the best souvenirs the next time you are there!

Ghanta Ghar Bazaar
Most cities in Rajasthan have a central clock tower with a market surrounding it from all sides, and Udaipur is no less. Antique jewellery in silver, kundan, gold etc is found here in tiny stall-like shops. Idols of various Gods and Goddesses are the most sold item from here. You might find just about everything here only if you are willing to spend hours looking.
Tip: Don't forget to hog on some local sweets while shopping here; takes the whole experience up a notch.
Jagdish Temple Street
Located near the clock tower, Jagdish Chowk is always brimming with happy shoppers. People come here for the intricately designed pottery including hookah pots, wooden toys, and leather journals among other things. It is closed on Sunday which is a bummer for a lot of tourists.
Tip: Pick up journals in different shapes and sizes as they are totally worth it. Also, have a meal at the cute cafes there like Issac or Mayur.
Maldas Street
Known for being the best cloth market in the city, it is usually brimming with women who are going to attend weddings. Every kind of cloth is available here and will make your inner fashion designer very happy. Fabrics for costumes, added embroidery items, traditional work materials, and everything that you can think of when you hear 'cloth' can be found here.

Hathi Pol Bazaar
A heaven for art lovers, this market is bustling with local artists selling their paintings and art work. You will also find bandej or leheriya saris here to take back home for your mum. But the USP here is the camel skin footwear called 'Nagra' that has a fan following of its own.

Mochiwaada Bazaar
Mochiwada is the shoe lane of the larger Bada Bazaar, and if you're looking for some easy breezy chappals or planning to go all out with heavily embroidered juttis, then this is a spot for all. Leather shoes in all colours are the most popular finds here. They're cheap, so rest assured, you'll be doing a lot of budget shopping when here.
Kamal Dupatta Cloth Store
The largest store in Udaipur for cloth necessities and you'll often see women lining up to barge in. From readymade suits, salwars, lehengas to crafting your own from the various materials, shopping here is a journey that is quite satisfying.

Shilpgram
A village set up spread across 70 odd acres, this place brews local authentic culture and lets tourists be a part of it. Traditional pots, paintings, handicrafts, clay items, mud work crafts etc, are the bestsellers. While the place is functional throughout the year, barring Sunday, people flock here during December end for the grand fair or mela. The place transforms into a wonderland during the time.

Rajasthali
Rajasthali is a government-run emporium that has everything sold at fixed rates, so your bargaining skills won't be of good use here. Shop for traditional turbans, puppets, terracotta pottery, and more local items when here.

Bapu Bazaar
It's a one-stop-shop for every kind of shopper. Whether you're looking for traditional souvenirs or need to replace the broken scratch guard of your phone, you'll be at ease here. Plus, the street food just makes it all much better. Cue: spicy chaat.

Chetak Circle
Yet another vibrant place to shop at, Chetak Circle always has an enthusiastic vibe to it. Brass ware, boxes, lanterns, handmade paper – this place is street shopping at its prime. There is Mandi Bazaar near the circle that is a centre to buy spices to make all the yummy Rajasthani food.
Note: Most of these markets are closed on Sunday, so please plan your visit accordingly.

Ask Japleen a question