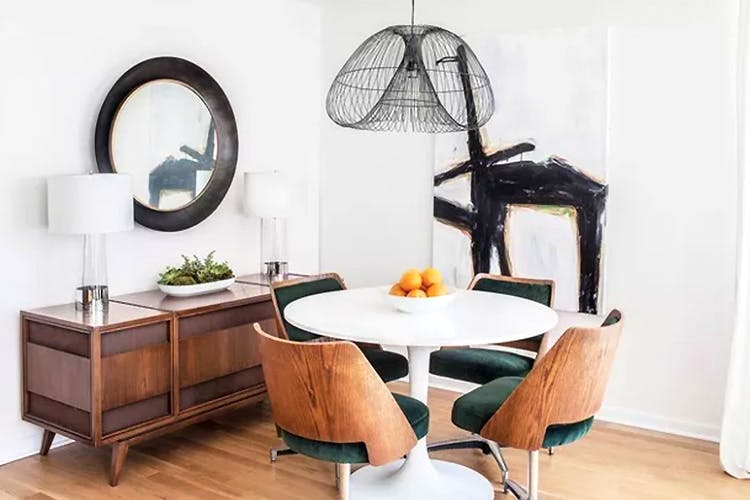 Small Apartment? Check Out These 8 Types Of Space-Saving Furniture
Whether you have an open-plan living area that you need to squeeze in a place to sit and eat, or just relax, or you have a bijou kitchen that seems to have absolutely no room for a place to perch, don't lose heart—there are solutions. From compact (curvy tables with seats to match) to barely there bespoke designs, you can fit a table and chairs combo into almost any space.
Round It Up
The table here wins on the space-saving front in two ways—it's round, so can slot into a corner of an open-plan living space with ease, and it's a pedestal design (meaning chairs can be tucked in fully). Pedestal tables also make it easier to squeeze one more guest around the table, which is another reason to love them so much. The ultra-chic chairs are practical pedestal designs too, so this table and chairs team gets top marks in every interiors category.
LBB recommends: Kirti Nagar Market, Amar Colony and Pepperfry.
Call On A Classic
Don't have the budget for a bespoke piece? Then you could look to the reliable (and extendable) gate leg table, as they've done here. You may think the chairs aren't the right choice for a compact kitchen/dining/living space, but when the table isn't in use, these sturdy designs can rock up next to the sofa to provide additional seating in the living area. They also just happen to elevate this beautiful—but neutral—scheme.
LBB recommends: Warehousing Scheme and Urbanladder.
Make It A Banquet
Here's proof that a narrow kitchen can, in fact, have a proper place to sit and eat. The designer has cleverly started the banquet at the end of the run of units to fit in more seating, and the table is long and narrow to match it. A joiner can easily produce both a banquet and table to the specifications you require. Cushions ensure the slick bench seating is comfortable — just choose cushions with removable covers to make cleaning easy.
LBB recommends: Kasa Adhbuta, Sharma Farms and Amazon.
Take A Seat At The Bar
This table and seating team is part of a super-clever micro apartment that's jam-packed with space-saving ideas. Want to know more? Click on the image to see other photos from the apartment, plus a floor plan. If you want to replicate this eating area, you just need to extend the worktop on a run of units. Special mention needs to be given to the two drawers that were included, which could make this breakfast/dinner bar a handy work area, too.
LBB recommends: Kirti Nagar, Pepperfry and Kasa Adhbuta.
Pick Double-Duty Furniture
Wondering where the table and chairs are in this studio apartment? Well, that console against the wall isn't just a console it's a table too! When it's not being used, the top is stored in a cupboard. And where did the six stools come from? They're an ingenious piece of design—they turn into an ottoman when you fit them together and that ottoman was hiding in a corner of this studio.
Bring The Outside In
With this compact garden bistro set, you can imagine you're sitting at a lovely cafe soaking up the sun (that should help with the cold-season blues). And a set like this is a good option for those of us short on space, as it takes up very little of it. It's also super easy to move around, making it flexible, and you can even park it outside when you don't need it as it'll be weatherproof. Simple, but smart.
LBB recommends: Handmade World, Hauser and The Khadi Cult.
Think Clearly
Have a little more room to play with but still want to create a sense of space? Opting for a see-through table and chairs set is one way to go as, visually, it's un-cluttering, which will help to create the impression of more space.
Have It Built
Going bespoke will give you plenty of options — just look at this clever contraption. The foldable table and slimline chairs have turned an otherwise unassuming nook in a compact kitchen into a petite but practical dining area for two. Like the look of the wood? It's meranti.
LBB recommends: These Amar Colony carpenters, Mishtoo Made and Studio Wood.
This recommendation was first posted on Houzz.
Comments